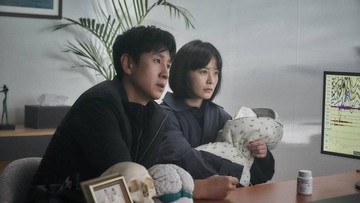 Mother, since September 13, the film Sleep has successfully attracted the attention of film lovers in South Korea. Under the expert hand of director Jason Yu, the film made a name for itself as an unforgettable debut in Korean cinema.
Until now, the impact is still felt strongly. How could it not be, this film was even able to shift the ranking of Christopher Nolan's viral film, Oppenheimer, to 2nd place after three consecutive weeks of being in first place. Apart from that, in just its first weekend, the film Sleep was also able to pocket fantastic revenues of US$2.97 million or around Rp. 45.6 million. Truly astonishing numbers, right?
Through the distribution banner Lotte Entertainment, the film Sleep with its unique premise has skyrocketed to become viral on the TikTok platform. The premise of the film is about the sleep disorder somnambulism, which is often identified as sleepwalking, but in this case, the sleep disorder reaches alarming levels.
ADVERTISEMENT
SCROLL TO RESUME CONTENT
This film depicts how severe sleepwalking is not only a threat to those who experience it, but also has the potential to harm the people around them. The experience of watching the film Sleep is not only about following the gripping story, but also about delving into the terrifying reality that can happen when someone is trapped in their own world while sleeping. What an interesting premise, isn't it?
In this article, you will see five interesting facts about the film Sleep, which was a huge success in South Korea, taking you on an in-depth journey about the terror hidden in someone's sleep.
1. Synopsis of the film Sleep, a terrible terror when the husband falls asleep
With a thriller and horror genre, the film Sleep, which also includes a neat dark comedy, invites you into a thrilling story, following a newlywed couple, Hyeon-soo and Soo-jin. The two of them, who initially lived a happy married life, were soon dragged into a nightmare when night fell: Soo-jin's world became chaotic because she kept finding that her husband, Hyeon-soo, was wandering around in his sleep in their apartment room.
With each night that passes, Soo-jin feels increasingly entangled in an increasingly rampant web of anxiety and fear. Her maternal and survival instincts are at their highest levels as she struggles with the haunting fear that Hyeon-soo's nightly journey could potentially harm her and their newborn baby.
What makes Sleep so compelling is its ability to explore the fragile nuances of human psychology while masterfully combining elements of thriller and horror. The film's narrative meticulously blurs the lines between reality and the surreal, leading the viewer on a hypnotic journey into the darkest corners of the human subconscious.
2. Studded with top stars, there are the names Lee Sun Kyun and Jung Yu Mi
The film Sleep is played by a number of famous artists in South Korea and even abroad. Like Lee Sun-kyun who plays the husband, Hyeon-soo, and Jung Yu-mi who plays the wife, Soo-jin.
Jung Yu-mi, with her acting skills, brings Soo-jin's character in Sleep to life. He was able to depict Soo-jin's feelings of confusion and fear when she realized her husband's strange sleepwalking behavior.
Jung Yu-mi, also known for the Korean variety show Youn's Kitchen and the film Train to Busan, plays the role of Soo-jin with great emotional sensitivity, taking the audience on an intense journey through feelings of fear and worry due to the potential dangers that threaten their new child. .
In addition, Lee Sun-kyun, who has proven himself as a talented actor in various types of roles such as the film My Mister and the Oscar-winning film Parasite, delivers a stunning performance as Hyeon-soo in Sleep. From watching the film's trailer alone, he manages to create suspense and mystery around his sleepwalking character with unnatural behavior.
Apart from that, Lee Sun-kyun also skillfully explores the dark side of his character, creating a tense uncertainty in this film. His strong acting presence adds a deep dimension to the story that is guaranteed to keep you glued throughout the film.
3. The Korean film Sleep passed the Cannes Critics' Week 2023 selection
According to The Korea Times, the film Sleep has received international recognition with an invitation to Cannes Critics' Week on April 17 2023, a parallel film festival to the Cannes Film Festival. The film received positive reviews after its Cannes premiere, being billed as a film that perfectly blends elements of black comedy and horror.
Critics also stated that this film appears as a work that is a deep reflection on married life, especially a depiction of domestic trauma in the family. Apart from that, support from famous director Bong Joon-ho also makes this film even more attention-grabbing.
4. The film Sleep dominates the Korean Box Office for 12 consecutive days
According to Soompi, the film Sleep has created a sensation in cinemas by taking over the top position at the South Korean box office for twelve consecutive days since its release on September 6. This victory is clear proof of the strong appeal of the well-crafted story and the charming performances of the main actors.
5. The film Sleep managed to reach 1 million viewers
Apart from that, the film Sleep also succeeded in achieving extraordinary achievements by reaching more than 1 million viewers in a relatively short time. This film has dominated the South Korean box office for two consecutive weeks, with data noting that last weekend it managed to attract the attention of 313,000 viewers or around 38.7 percent of total ticket sales.
An even more impressive success is that this achievement occurred just 12 days after release, surpassing the breakeven figure set at around 800,000 viewers.
Mother, those are some interesting facts from the film Sleep which has gone viral recently. So, are you interested in peeking at the horror hidden in this film?
For mothers who want to share about parenting and get lots of giveaways, come join the HaiBunda Squad community. Register click HERE. Free!
(som/som)