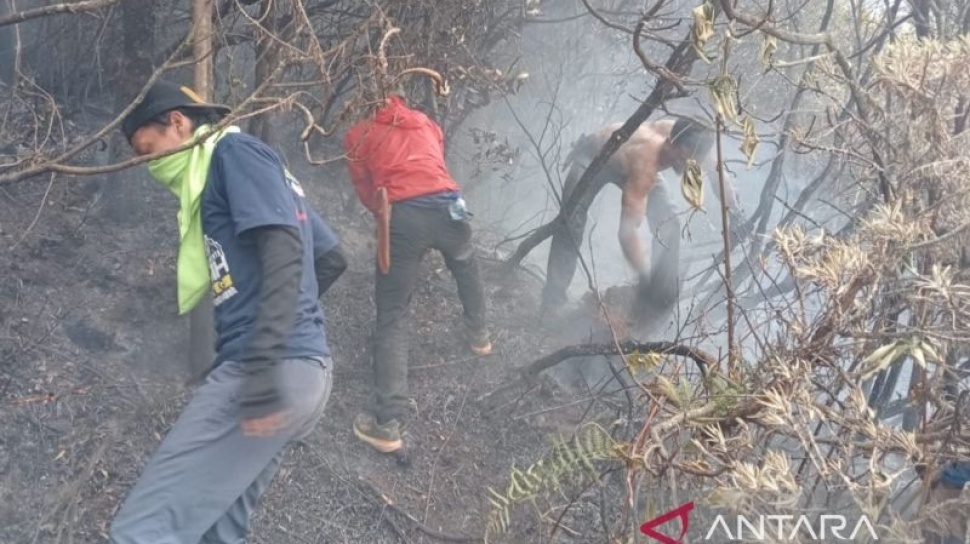 Suara.com – The burning of the savanna in Suryakencana Square, Gunung Gede, West Java, caused a joint team to extinguish the fire to be immediately dispatched to the location.
Even though it had been extinguished, plumes of smoke could be seen in other locations. Head of the Gunung Gede Pangrango National Park (TNGPP) Center, Sapto Aji Prabowo, said that dozens of volunteers and police officers carried out the extinguishing process in the area.
"Dozens of volunteers and the police were also dispatched to help extinguish the fire in the Suryakencana Square area. Meanwhile, the first team was sent in advance to monitor and carry out emergency response," he said as quoted by Antara on Monday (18/9/2023).
Aji said that the second team was then dispatched on Monday evening with a number of equipment to extinguish the fire so that the land fire did not spread, considering the dry conditions of the savanna.
Also read: As a result of throwing away cigarette butts, a resident in Kubu Raya set the ground on fire for 1 week
Furthermore, his party confirmed that they had coordinated with the Cianjur Police to anticipate the possibility of additional personnel. From monitoring, the CCTV at the front at the starting point has been extinguished, but there can still be flames from sparks at the back of the CCTV which is still on.
"A joint team consisting of TNGGP officers, volunteers, volunteers and police officers as well as local residents, has gone to the location to help the officers who were sent to the location earlier," said Sapto.
Meanwhile, Cianjur Police Chief AKBP Aszhari Kurniawan has assigned his members to help put out the fire at Suryakancana Square, Gunung Gede.
"Just in case, we have prepared other members to be dispatched when additional personnel are needed," he said.
Previously, TNGGP stated that it was still investigating the exact cause of the burning of the three hectare savanna area in Surayakancana Gunung Gede Square.
Also read: Syamsudin Noor Banjarbaru International Airport is starting to be affected by peatland fires
"It can be seen from the installed CCTV that a cloud of smoke occurred in the grassland of Surayakancana Square, better known to climbers as Surken," said Aji.
The Suryakencana area has often been used as a camp and resting place for climbers before reaching the top of Mount Gede, but when the fire was seen, the location was empty of climbers and no one had set up a tent. (Between)