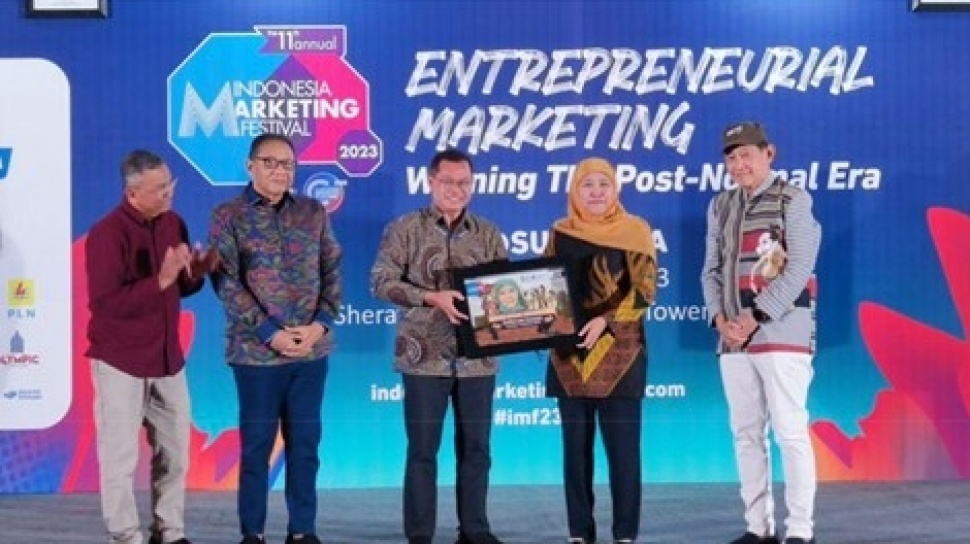 Suara.com – MCorp as a marketing consulting company succeeded in holding a marketing roadshow by presenting the latest marketing concepts adopted from the book Entrepreneurial Marketing by Philip Kotler, Hermawan Kartajaya, Hooi Den Huan, and Jacky Mussry. The 11th Indonesia Marketing Festival (IMF) 2023 entitled Entrepreneurial Marketing: Winning The Post – Normal Era has been completed and was held in 7 major cities in Indonesia, namely Semarang, Pekanbaru, Palembang, Bandung, Manado, Denpasar and Surabaya, which was the last city to be held. IMF 2023 this year at the Sheraton Surabaya Hotel on Thursday, September 7 2023.
As the last city to host the 2023 IMF, Surabaya's economic growth continues to increase to reach 7.17 percent. The people's economic program in Surabaya is filled with Micro, Small and Medium Enterprises (MSMEs) and grocery stores, and is labor intensive which revives the economy which had fallen during the Covid-19 pandemic. Surabaya is considered capable of leading East Java to become the province with the second highest Gross Regional Domestic Product (GRDP) in Indonesia. Due to the significant development of East Java, MCorp is presenting IMF 2023 East Java to gather marketing enthusiasts in one forum that can be used for networking and adding the latest marketing knowledge with the CI-EL and PI-PM concepts.
Thanks to the increasing economy of East Java, Khofifah Indar Parawansa, who has led East Java as Governor, received the title of Governor Srikandi: Punokawan Spirit which was awarded by MCorp as a form of appreciation for the work that has been realized. This award was given because he was considered capable of providing new solutions and had the courage to take risks for the benefit of the people. Apart from that, the creativity, innovation, entrepreneurial spirit and leadership shown by Khofifah Indar Parawansa reflect Punokawan's character as contained in the appendix to the book Entrepreneurial Marketing.
"I am very grateful to MCorp for the award given to me by Governor Srikandi: Punokawan Spirit. This is a great honor for me and the entire team who have worked hard to advance the economy of East Java. This award does not only belong to me, but also to all the people of East Java and Indonesia who have fought together for the progress of our region. We also congratulate MCorp for successfully holding The 11th Indonesia Marketing Festival 2023, and thank you for making the city of Surabaya one of MCorp's cities of choice. "Thank you once again for this award, and let's work hard together for a better future," said Khofifah Indar Parawansa.
Also Read: Governor Khofifah Asks Free Prisoners to Immediately Carry Out the Process of Social Integration and Psychosocial Adaptation
IMF 2023 East Java was opened with an interesting performance from the Hang Tuah University Marching Band, and remarks from the Minister of Women's Empowerment & Child Protection of the Republic of Indonesia, I Gusti Ayu Bintang Darmawati, "Highest appreciation and thanks to IMF 2023 for holding this forum to improve and celebrating women's achievements in realizing creativity, innovation, entrepreneurship and leadership. IMF 2023 is a momentum to share experiences to gain inspiration, as well as develop enthusiasm for improving women's leadership, ability and resilience, as well as the significance of the work done by Indonesian women. It is hoped that the 2023 IMF Forum will support the capacity and contribution of women in the economy and careers to improve the nation's quality of life.
The title of Srikandi Governor: Punokawan Spirit which Khofifah Indar Parawansa received, was strongly supported by I Gusti Ayu Bintang Darmawati who stated, "The Heroine Award with Punokawan Spirit, to one of the female figures, namely Khofifah Indar Parawansa as Governor of East Java 2019 – 2024, is proof that Women's leadership cannot be underestimated, with various work programs that are directed and implemented, in the form of programs that have a gender perspective and fulfill children's rights and protection which are formed from creativity, innovation, entrepreneurship and leadership, as well as forms of productivity and inspiring work management. Mrs. Khofifah, continue to be an inspiration for all women, not only in East Java but throughout Indonesia. Of course there are many women who inspire, it is not impossible for us to pick up a Golden Indonesia 2045."
The IMF 2023 East Java series was held to explore the latest marketing topics with the concepts of CI-EL (Creativity, Innovation, Entrepreneurship, Leadership) and PI-PM (Productivity, Improvement, Professionalism, Management) used as an analytical basis for designing marketing strategies in the period after the Covid pandemic -19 or in the post-normal era.
The panel sessions were attended by speakers from large companies in East Java and Indonesia, such as the PI-PM session with Arne Suryoyudo Sasmita as GM Garuda Indonesia Branch Office Surabaya and Mulyono Rekso as Head of the Regional XII Surabaya Pawnshop Office. Meanwhile, CI-EL session with Donny Prasetya as Sales Branch Manager I MyPertamina Surabaya, Edric Chandra as DSC Program Initiators, Martindar Jalu Respati as SRM Niaga and MP PLN UID East Java, and Garry Limanata Co-Founder of Stickearn.
The highlight of the IMF 2023 event was also the presentation of awards to individuals and regional agencies who have contributed to developing and implementing innovative marketing concepts in the East Java region. The three awards given include, Industry Marketing Champion (IMC) 2023, Public Service Award (PSA) 2023, and Sales Services Person and Field Promoter of the Year (SSPOTY) 2023.
Also Read: Celebration of Sacred Reflections on the 78th Anniversary of the Republic of Indonesia, Governor Khofifah Asks the People to Maintain International Public Trust in Indonesia
The end of the 11th Indonesia Marketing Festival 2023 gave an interesting impression to the participants present, especially the leaders in each province as well as the award winners. After passing through seven big cities in Indonesia this year, the Indonesia Marketing Festival will bring another excitement next year. For information about MCorp events, visit the Instagram pages @markpluscorp and @markplusevents.