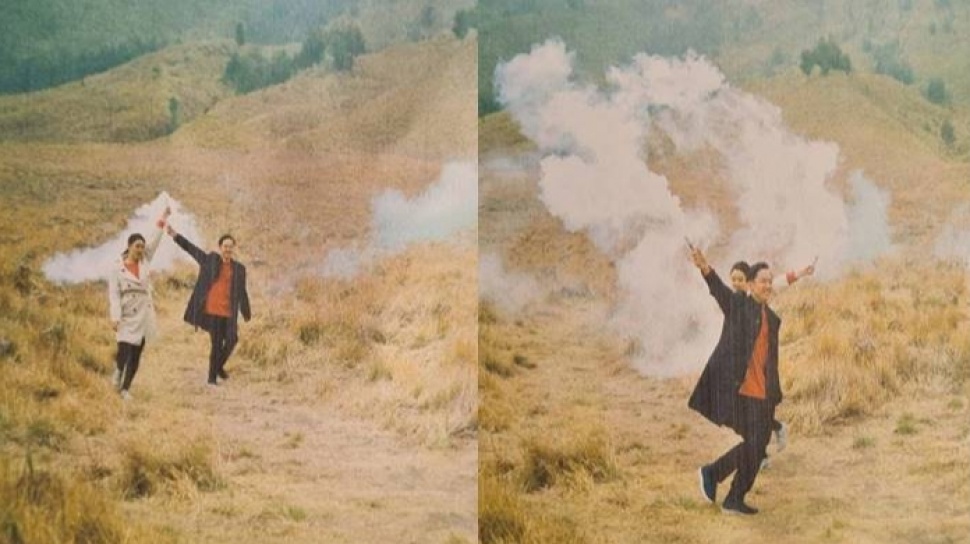 Suara.com – The Teletubbies BB TNBTS Mount Bromo hill fire case is entering a new phase. It is said that the legal team for the bridal couple and the WO manager will report back to the tourism management. This then put the lawyers in the spotlight.
The two lawyers, Hasmoko Budijono and Mustadji, agreed to review the plan to report back against the BB TNBTS Mount Bromo tourism management. According to both of them, they were negligent in their duties, which caused a large fire.
Previously, a major fire occurred on Mount Bromo which was thought to be due to pre-wedding photo activities using flares. In this case, WO's manager, Andrie Wibowo, is a suspect. Meanwhile, the prospective bride and groom still have the status of witnesses.
Their plan made Mustadji's figure also receive sharp attention from the public. He and his legal team were considered strange because they instead blamed and reported back to Bromo for this case. The following is Mustadji's profile information.
Also read: Appearance of the Mount Bromo area scorched by fire
Profile Mustadji
Not much information about Mustadji has been obtained. It's just that he was a member of the legal team involved in the Bromo fire case. Where they have the determination to defend their clients to the maximum.
Mustadji is also suspected of working as an advocate under the legal institution Hasmoko Budijono, SH, MH, & Partners. This place is in Probolinggo, East Java. His figure began to be highlighted by the public after he wanted to sue Bromo.
A little about Hasmoko Budijono, SH, MH, he is a lawyer from Probolinggo. He is a member of the Peradi advocates organization. Meanwhile, his office is known to be located on Jalan Ikan Paus No.11, Mayangan Village, Mayangan District.
The alumni of Widya Karya Catholic University, Malang, often handle various cases. Especially what happened in his hometown. One of them is the case of Sherly and Rio in the PT SASA vortex in 2011. He also collaborates with a number of advocates.
Also read: The WO who triggered the Bromo fire 'washed his hands': Drag Bromo management to blame the wind
This includes the Bromo fire case which ensnared the WO manager and the bride and groom Hendra Purnama-Pratiwi Mandala Putri. It is said that he and Mustadji will sue the tourism management who they consider negligent in carrying out their duties.
Hasmoko and Mustadji accused the officers of negligence and not checking visitors' luggage which could cause dangerous things such as flares. They are also considered not to have provided maximum service for visitors.
Hasmoko and Mustadjj made some of these accusations in defense of their clients. Both the WO manager who has status as a suspect and the prospective bride and groom who are still considered witnesses.
Contributor: Xandra Junia Indriasti