Do you still remember the cuteness of Oneng (Rieke Diah Pitaloka) and Bajuri (Mat Solar) in the sitcom Bajaj Bajuri? This sitcom was very popular at its time, namely around 2002.
Not only their cuteness but the acting skills and cuteness of the other players also really entertained sitcom fans at that time.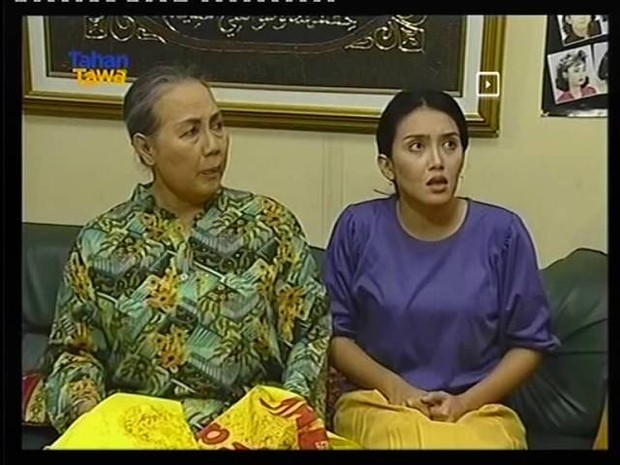 Remembering the figure of Mother Eti, played by the late Nani Widjaja/Youtube/Bang Ros
Although, there are already actors who have left us all, such as the role of Emak Eti or Mother of Oneng, played by the late Nani Widjaja. We certainly know that the figure of Mother at Bajaj Bajuri is very iconic and memorable.
Mother is indeed mercenary and selfish, but Oneng's innocence and cuteness succeeded in making her second role very funny and entertaining. Even though the late Nani Widjaja is now gone, her role as Mother at Bajaj Bajuri still makes an impression.
However, some players still exist as celebrities. So apart from still being an Indonesian actress, how are the other Bajaj Bajuri players?
1. Mat Solar aka Bajuri
Bajaj Bajuri Sitcom Cast News; Mat Solar/Insert Live/detik.net.id
This most anticipated role is indeed worthy of being the main actor. Bajuri, who doesn't get along with his in-laws, aka Mother, really entertains many people. This inaccuracy invited laughter where Oneng, who was none other than Bajuri's wife, intervened between the two of them in an innocent and funny way. So the role of Bajuri and Mother who don't get along is actually entertaining.
Even though after the end of the sitcom Bajaj Bajuri Mat Solar continued to exist in the entertainment world, now his condition is difficult to speak and his body is also thin because he suffered three strokes. Fortunately, he can still support his family with the rented business he started when he became an Indonesian artist. Hope you get healthy again soon, Mat Solar!
2. Rieke Diah Pitaloka alias Oneng
Bajaj Bajuri Sitcom Cast News; Rieke Diah Pitaloka/Photo: Instagram/riekediahp
Her innocent and funny attitude was able to lighten the atmosphere of dispute between Emak and her husband Bajuri. Despite her innocence, Oneng, played by Rieke Diah Pitaloka, helps Bajuri by opening a small salon business in her house. Several times he is still present in the world of entertainment, but is more focused on getting involved in the world of politics.
Wow, a change from the innocent and gentle role of Oneng huh. Rieke Diah Pitaloka, who is also an activist, has held a number of important roles in political party chairs. Currently, he serves as a Member of the DPR-RI Legislative Assembly for 2019–2024.
3. Fanny Fadillah alias Ucup
Bajaj Bajuri Sitcom Cast News; Fanny Fadillah/Photo: Instagram/fanny_fadillah06
His characteristic role, always wearing a football jersey, as a motorbike taxi driver, is played by Fanny Fadillah. Until now, Fanny still exists in the entertainment world.
Even though she has been involved in the world of entertainment for decades, the roles that Fanny Fadillah plays are consistent, like the character Ucup has become attached to her.
4. Dyo Aleathea Alias ​​Sahili
Bajaj Bajuri Sitcom Cast News; Dyo Aleathea/Photo: Instagram/doubled_boxing
His playful and mischievous character often annoys people, but really entertains the audience. Yes, who else if not Sahili, the only child of Mpok Minah. Sahili, played by Dyo Aleathea, apparently did not continue her career in the entertainment world.
Sahili, who has grown up and is now 29 years old, has apparently taken up martial arts or self-defense sports. Not only that, interestingly he is even busy setting up a boxing studio and becoming a trainer with his colleagues. Wow, I really didn't expect it, Sahili, who used to be a kid and cute, is now mature and really cool.
5. Wiwin Burhani alias Mpok Leha
Bajaj Bajuri Player News; Wiwin Burhani/Photo: Instagram/wiwinburhani
Do you still remember the food stall owner in the sitcom Bajaj Bajuri? Yep, Mpok Leha is always the victim of Mother's insolence. Mpok Leha, played by Wiwin Burhani, is known from the sitcom Bajaj Bajuri, he prefers to take a vacuum in the world of celebrities who have made his name. He is currently focused on taking care of his family.
Mpok Leha or Wiwin Burhani now appears wearing a hijab, you know. Eits, even though he is no longer active in the entertainment world, Wiwin is quite present on social media and posts about his activities.
6. Sinta Dewi alias Nurmala
Bajaj Bajuri Player News; Sinta Dewi/Photo: Instagram/shintariyo
Oneng has friends and salon customers. Well, one of them is Nurmala, who doesn't know Oneng's best friend, Nurmala? The character Nurmala is played by Sinta Dewi. Sinta also chose to take a break from the entertainment world and work as a salesperson for an automotive company for cars.
It can be seen on her personal social media that up to now Sinta often posts together with the cast of the sitcom Bajaj Bajuri. Even though she is not active as an Indonesian artist, Sinta apparently still maintains relations and communication with the cast of the sitcom Bajaj Bajuri.
7. Jovanka Mardova Alias ​​Debby
Bajaj Bajuri Player News; Jovanka Mardova Photo: Instagram/jovankamardova
Jovanka Mardova, who plays Debby's shop, is a loyal customer of Oneng's small salon in the sitcom Bajaj Bajuri.
He chose not to be active as an Indonesian artist who made a name for himself, he turned out to be a model, not only that, he also likes making cakes. In fact, he often sells the cakes he makes to friends on social media.
8. Ikhwan Nesia Zakaria
Bajaj Bajuri Player News; Ikhwan Nesia Zakaria/Photo: LinkedIn/Ikhwan Nesia Zakaria
Lastly, do you remember Oneng and Bajuri adopting a child named Soleh? The boy named Soleh Ramli is played by Ikhwan Nesia Zakaria.
Similar to other players, Ikhwan also chose not to continue his career in the entertainment world. If you look at his personal social media, he now works for a large company and serves as an E-commerce Supervisor. Wow, that's cool, now Soleh is an adult and independent.
Well, that's a series of actors from the sitcom Bajaj Bajuri who were quite admired for their very entertaining roles. Even though most of them chose not to become Indonesian artists, they were successful in their respective choices.
***
Want to be one of the readers who can take part in various exciting events at Beautynesia? Come on, join the Beautynesia B-Nation reader community. How to REGISTER HERE!
(laugh/laugh)