Newsdelivers.com, Insertlive –
Jung Hae In, during his 10 year career in the South Korean entertainment industry, has starred in many dramas with various characters and characters.
He has played romantic male characters, college students, idols, police officers, and even soldiers.
However, lately, Jung Hae In often plays the role of a soldier.
ADVERTISEMENT
SCROLL TO RESUME CONTENT
Jung Hae In plays a soldier in the Korean drama Prison Playbook, Snowdrop, DP and DP season two.
When holding a fan meeting entitled 2023 JUNG HAE IN FAN MEETING IN JAKARTA 'THE 10TH SEASON' at The Kasablanka Hall on Saturday (16/9), Jung Hae In talked about his experience playing the character of a soldier.
"This is not a DP. This is different from the DP when playing Prison Playbook. Playing a role wearing army clothes for the first time here," said Jung Hae In after watching footage of himself in army uniform.
The actor who was born on April 1 1988 continued that he most liked the role of the soldier in the drama DP. He even felt that his character was similar to Ahn Jun Ho.
"I feel very similar to Ahn Jun Ho's character and also other dramas or films. I am responsible for focusing (on the character). But for this DP, I am more responsible because there is a clear message to be conveyed," he explained.
In fact, Jung Hae In asked the drama staff to give him one of the army uniforms he wore when playing Ahn Jun Ho.
"At the end of filming DP season 2, I asked the staff to ask if I could bring this shirt to the fan meeting. So this is really the clothes I wore when filming," said Jung Hae In.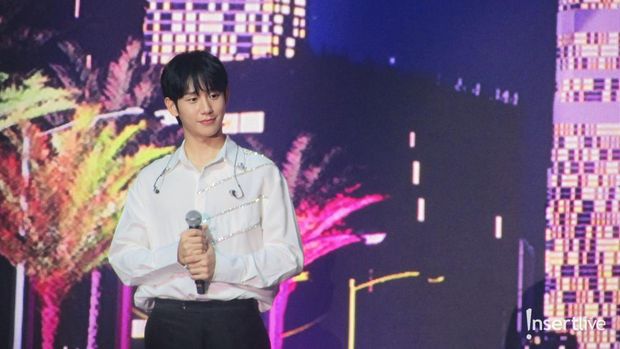 Jung Hae In/ Photo: Arman Maulana Azis
However, Jung Hae In seems to be bored with the role of a soldier. In his next project, he admitted that he did not want to take on the role of a soldier again.
"Actually, I want to avoid the next drama, I don't want to wear army clothes anymore," he concluded.
The fan meeting, which successfully created sweet dreams for Haeiness, as Jung Hae In's fans are known, was promoted by Three Angels Production.
(poor/poor)
Also watch the following video: