Newsdelivers.com, Insertlive –
Jung Hae In (35) greeted fans in Newsdelivers.com on Saturday (16/9) at Kasablanka Hall after 10 years of debuting as a South Korean drama and film actor.
Carrying the title 2023 JUNG HAE IN FANMEETING IN JAKARTA 'THE 10TH SEASON', Three Angels promoters succeeded in bringing Jung Hae In to the capital city to meet fans who had been waiting for a long time for his arrival and meeting with the actor.
Jung Hae In started the fan meeting performance by performing a ballad genre song, the voice of the actor An Jun Ho in the Korean drama DP was heard shaking a little.
ADVERTISEMENT
SCROLL TO RESUME CONTENT
Hae In, after singing, admitted that he felt nervous on stage in front of thousands of fans from Indonesia.
"Actually, I'm not someone who gets nervous easily, but now I'm nervous, I even got the lyrics wrong. Maybe because it's my first time in Indonesia," explained Hae In while showing a shy smile and a pair of eyes that expressed blushing.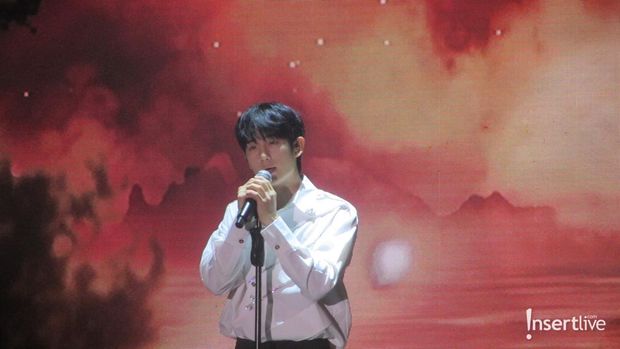 Jung Hae In/ Photo: Arman Maulana Azis
In the talk session, the actor with the zodiac sign Aries expressed his gratitude for still surviving as an actor for 10 years.
"It doesn't feel like time is going very fast," he explained.
Over the past 10 years, Hae In has spent almost all his time developing a career as an actor in the entertainment world of Ginseng Country.
"Since my debut, I have never taken a break for more than a month, after filming, I immediately started again," he added.
He admitted that it would only be in 2023 that he would be able to rest for more than a month or to be precise five months after the last shooting in Vietnam.
"I last shot five months ago in Vietnam, I've only had a break for more than a month, hmm… but I feel strange," he said.
This confession made Hae In's fans, who are called Haeiness, amazed, they all expressed shocked voices in unison.
Hae In hurriedly calmed Haeiness down so she wouldn't worry about him.
"Next year I will come back again with a drama that can please the fans," he concluded.
(shit/shit)
Also watch the following video: