The Japanese talent search agency, Johnny & Associates, received negative attention because of the sexual harassment case committed by its late founder, Johnny Kitagawa. It is known that the man who died in 2019 at the age of 87 had abused minors for more than 6 decades. Based on reports, the victims were mostly backup dancers who were waiting to debut. This case was only revealed by a third party investigation after a victim spoke out and was finally acknowledged by the agency in early September.
According to the NHK website, Fujishima Julie, as former President of Johnny & Associates, admitted in a press conference (7/9) that he was aware of the sexual harassment committed by Kitagawa. Fujishima also apologized to the victims and resigned from his post as president. Now this position has been replaced by Higashiyama Noriyuki (56), a singer who was a former member of the Shounentai group under Johnny & Associates.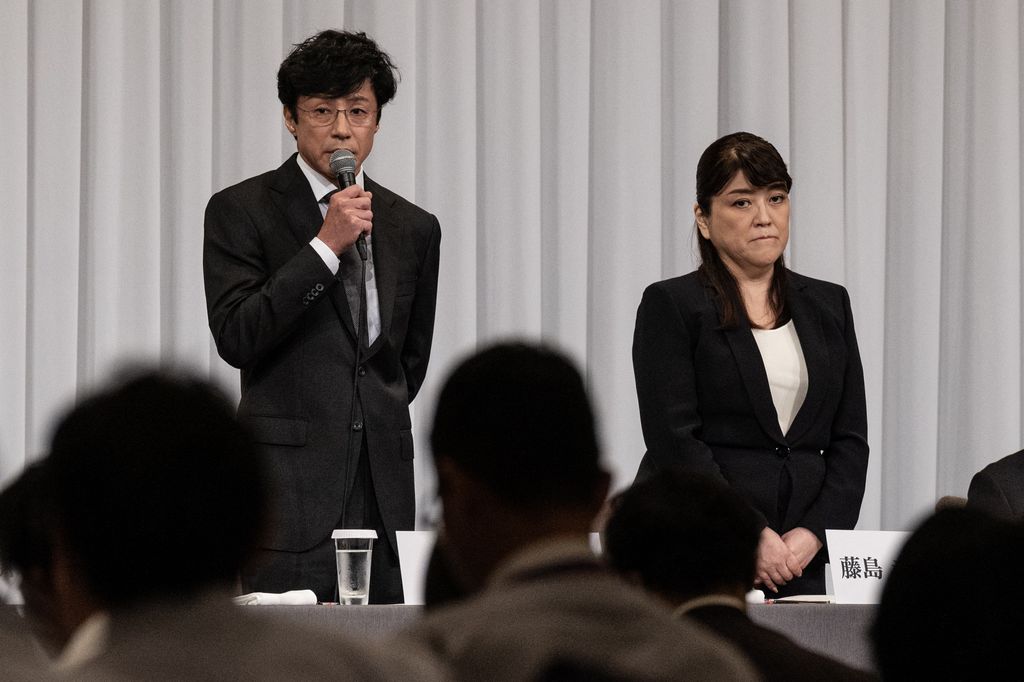 New president of Johnny and Associates Noriyuki Higashiyama (L) and outgoing president Julie Keiko Fujishima speak to the media at the start of a press conference about allegations of sexual abuse by the group's late founder, at a hotel in Tokyo on September 7, 2023. The president of Japan's biggest boyband agency admitted on September 7 that its late founder sexually abused young aspiring stars, decades after the allegations against him first emerged. (Photo by Richard A. Brooks / AFP) (Photo by RICHARD A. BROOKS/AFP via Getty Images)/ Foto: AFP via Getty Images/RICHARD A. BROOKS
However, it turns out that the bad luck of companies operating in the entertainment industry doesn't stop there, Beauties. As a result of the criticized behavior of the founder, many companies are thinking again about continuing contracts with Johnny & Associates. Here's the summary.
Large Companies Stop New Contracts
Johnny & Associates/ Foto: AFP via Getty Images/KAZUHIRO NOGI
Many of Johnny & Associates' clients are large companies, Beauties. Beverage producers Suntory, Kirin Holdings, and Asahi Holdings have terminated their collaboration in which Suntory will not renew the contract, while Kirin and Asahi have stopped making new advertisements involving talent from the company.
Nissan Motor, which has been using the services of performers from Johnny & Associates, is also reviewing its decision because the scandal that occurred is contrary to the company's values. In addition, Nippon Life Insurance, McDonald's Japan, and Kao also decided not to sign new advertising contracts.
Compensation for victims and 100% fee for artists
Foto: Getty Images/Yuichi Yamazaki
Johnny & Associates also provided information on their official website that they had formed a special committee for victim recovery as a form of responsibility. The committee will provide compensation to victims according to the results of their assessment per case and dialogue with them. "Financial compensation will be given to victims in accordance with the decision of the Victim Recovery Committee," wrote the company's official website.
According to the Japan Times, the company will also not claim management fees for advertising and television appearances by talent agency players for one year as another accountability measure. All payments are 100% given to the artists so that the company does not make a profit in a year.
New President Also Attacked by Accusations
Noriyuki Higashiyama, Presiden Johnny & Associates baru/ Foto: Getty Images/Tomohiro Ohsumi
After Fujishima's resignation, Higashiyama filled the boss's seat. According to the BBC website, during the press conference for the announcement, the former singer was also accused of sexual violence and bullying against young talents which was published in a book. Higashiyama answered the accusation, "I don't remember clearly. Maybe it happens, maybe it doesn't. I have trouble remembering."
Founder's Name Removed from Guinness World Records
Johnny Kitagawa/ Foto: AFP via Getty Images/KAZUHIRO NOGI
The case was revealed, the late Kitagawa, who was originally a powerful figure in the Japanese entertainment industry, had his image crumble. His achievements were not appreciated, including by Guinness World Records. In 2011, Guinness World Records recorded that Kitagawa had produced 232 no.1 songs during 1974-2010. However, after hearing about the scandal that dragged him down, Kitagawa's name was removed from the Guinness World Records list, as reported by The Japan News.
***
Want to be one of the readers who can take part in various exciting events at Beautynesia? Come on, join the Beautynesia reader community, B-Nation. How to REGISTER HERE!
(dmh/dmh)