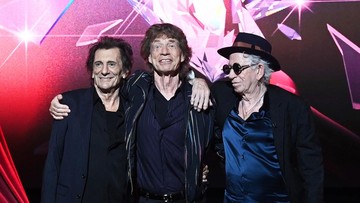 Newsdelivers.com, Insertlive –
The Rolling Stones, a British rock band, are in the process of working on their latest album.
This was immediately stated officially by Mick Jagger as vocalist and frontman of The Rolling Stones.
The album, which will be The Rolling Stones' 24th work, will be entitled 'Hackney Diamonds'.
ADVERTISEMENT
TAKE THE QUIZ
SCROLL TO RESUME CONTENT
As a sign of the seriousness of working on the album, The Rolling Stones released a new song entitled Angry on Wednesday (6/9).
This album is also The Rolling Stones' first work in 18 years after last releasing 'A Bigger Bang' in 2005.
Reporting from the New York Times, the permanent departure of drummer Charlie Watts is a deep sorrow for The Rolling Stones.
The late Charlie Watts' position as drummer was then replaced by Steve Jordan.
Jagger and Keith RIchards also felt that The Rolling Stones needed to release an album with Steve Jordan.
"The upcoming album ushers in a new chapter, with Charlie Watts gone, we thought we needed to make a new mark with Steve Jordan," said Keith Richards as quoted by the New York Times on Friday (15/9).
Apart from that, Jagger also said that 'Hackney Diamonds' would not be The Rolling Stones' last album in the music world.
In fact, Jagger said that The Rolling Stones had also entered the stage of working on their next album.
"We're almost three-quarters of the way through the next stage," Jagger said.
(Gambas:Instagram)
The Rolling Stones carried out the recording process for the album 'Hackney Diamonds' in various locations such as Henson Recording Studios in Los Angeles, Metropolis Studios London, Sanctuary Studios in the Bahamas, Electric Lady Studios and The Hit Factory/Germano Studios in New York.
Mick Jagger also boasted that The Rolling Stones would never release a bad album to be their latest work.
Careful preparations for this new album have been planned as well as possible
"I don't want to be big-headed but we wouldn't have put out this album if we didn't really like it. We said we had to make a record that we really loved," said Jagger.
"We're pretty happy with it. We didn't think much of it, but we hope you all like it." he continued.
The plan is that The Rolling Stones' latest album 'Hackney Diamonds' will be released on October 20 2023.
(ikh/ikh)
Also watch the following video: