Data from the National Disaster Management Agency (BNPB) summarizes that Indonesia has experienced almost 3,000 disasters from January to September 2023. Not only in Indonesia, a series of heartbreaking disasters have also occurred throughout the world. Many of them claimed lives and caused huge losses.
A series of quite devastating disasters have even occurred repeatedly in the last month. Reporting from USA Today, several regions in the world experience extreme weather, storms and even flash floods.
The following are some of the latest natural disasters that hit the whole world, including Indonesia:
1. Disaster Network in China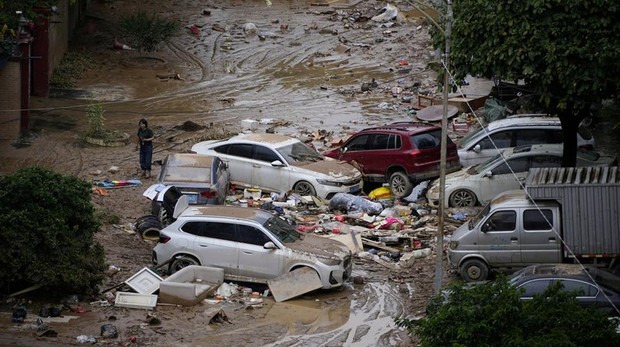 Floods in China/Photo: Reuters/Aly Song
China is one of the countries with the worst disasters this year. On (2/8/2023), this country was hit by the worst flash floods in the last 140 years. At least 33 people were declared dead.
As if that wasn't enough, in early September 2023 Reuters reported that China was hit by typhoon Haikui which triggered at least 100 other disasters. Flash floods hit Beijing on (12/9/2023) and trapped thousands of people. Apart from that, there were landslides, strong winds and the release of dozens of crocodiles which had the potential to endanger humans.
2. Morocco earthquake
Morocco earthquake/Photo: Reuters
On (10/8/2023), Morocco experienced a sandstorm which caused many trees to fall and killed one person. The sky turned orange because it was covered in red fog, and a heat wave of up to 48 degrees Celsius emerged which made conditions in the city even more uncomfortable. But that's not enough!
Friday (8/9/2023) an earthquake measuring 6.8 on the Richter scale devastated Morocco. Reuters reported that this incident had claimed nearly 3,000 lives, while more than 2,500 people were injured. This earthquake also caused damage to the Tinmel Mosque, a historic building built in the 12th century.
3. Forest Fires in Maui, Hawaii
Forest Fires in Maui Hawaii/Photo: TikTok.com
The island of Maui, Hawaii, was hit by forest fires on Thursday (17/8/2023). Parts of West Maui were scorched while the City of Lahania suffered extensive damage. CNN reported that at least 110 people died in this incident. This fire also turned the Maui area into a ghost town and burned a number of cultural assets there.
The cause of the fire is not known for certain, but a netizen uploaded a photo that was allegedly taken shortly before the fire occurred. The image shows a horizontal line of fire on the island. Allegations also emerged that there were parties who were carrying out research/trials and then this had an impact on the fire.
4. Sandstorm in Iran
Illustration of a Sandstorm in Iran/Photo: Freepik.com/Eleni_sait
Apart from Morocco, a sandstorm also attacked Iran in mid-August 2023. Sistan-Baluchestan Meteorological Director Muhsin Haydari, as reported by IRNA, revealed that the storm caused an increase in dust in the air. Apart from disrupting visibility, this condition also caused more than 1,000 people to experience breathing problems and seek medical help.
The Director General of the Environmental Center at the Iranian Ministry of Health, Jafar Jandaqi, also revealed that this storm was made worse by climate change and global warming. Rising earth temperatures cause evaporation which results in a decrease in river flow. This makes the land dry and more dust appears in the Iranian region.
5. Floods in Hong Kong
Floods in Hong Kong/Photo: Euters/Tyrone Siu
According to CNN, rainfall in Hong Kong reached more than 158 millimeters per hour on Thursday (7/9/2023) at midnight. This figure is considered the highest in the last 140 years, and also triggers flash floods. A number of areas were submerged and infrastructure paralyzed, starting from stations, roads and housing. Even some roads in lowland areas have turned into fast rivers with murky brown water.
All activities were disrupted and the government issued a "black" level rainstorm warning. Residents are asked to stay indoors and seek shelter. Tragically, the Consulate General of the Republic of Indonesia to Hong Kong confirmed that an Indonesian citizen died in the disaster.
6. Floods in Libya
Floods in Libya/Photo: Reuters
Flash floods triggered by rain and storm Daniel hit Libya on Sunday (10/9/2023) evening. Reporting from CNN on Thursday (14/9/2023), the death toll reached 6,000 people, while 10,000 people are estimated to be missing. The number of victims was quite large because the flood caused the embankment to break and swept away many people, especially in the Derna City area.
7. Forest fires in Bromo
Forest Fires in Bromo/Photo: Detikcom
The fire in the savanna area of ​​Mount Bromo is one of the most highlighted events in Indonesia. The fire caused TNBTS (Bromo Tengger Semeru National Park) to close on Sunday (3/9/2023). However, not long after the fire was extinguished, a bigger fire struck again.
Bromo's Teletubbies Hill caught fire again due to pre-wedding activities that used flares at that location. There was a frightening phenomenon where a tornado appeared amidst the flames. This condition is thought to be due to strong winds, which is also the reason it is difficult to extinguish the fire.
The fire was only extinguished 6 days later after various efforts to extinguish it, including water bombing. The person accused of starting the fire was reportedly fined up to IDR 1.5 billion for the fire which was estimated to have consumed 500 hectares of land.
Disasters have continued to increase in recent years
Natural Disaster Illustration/Photo: Freepik.com/wirestock
Apart from the disasters above, there are many other events that show that the earth is not doing well. NOAA (National Oceanic and Atmospheric Administration), as reported by USA Today, revealed that 2023 will be a year full of disasters compared to previous years.
Data from BNPB also reveals that floods are the most common disaster in Indonesia. Based on an analysis of the disasters that occurred, most of them were exacerbated by environmental damage and climate change.
The United States Environmental Protection Agency (EPA) revealed that natural damage occurs because human activity is too high, releasing a lot of methane and carbon dioxide gas into the atmosphere, causing a greenhouse effect. This causes global warming which causes the earth's temperature to increase so that the potential for disaster is also greater.
So, how long will we be indifferent to nature?
***
Want to be one of the readers who can take part in various exciting events at Beautynesia? Come join the Beautynesia reader community, B-Nation. How to REGISTER HERE!
(sound/sound)