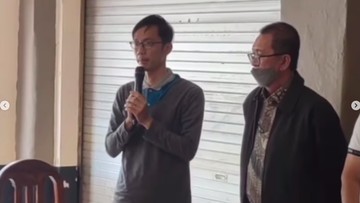 Newsdelivers.com, Insertlive –
The groom who caused the fire on Mount Bromo has finally appeared in public. After causing a stir in the public, the groom appeared to apologize for the fire on Mount Bromo.
Seen in a video uploaded by the Instagram account @lambe_turah, the groom who was taking pre-wedding photos on Mount Bromo looked down and regretted his actions.
In the video, the groom can be seen apologizing to traditional authorities for his negligence which caused the fire on Mount Bromo. Originally, he and his wife were taking pre-wedding photos in the Mount Bromo area. However, due to sparks from the flares they used during the photoshoot, fires appeared on Mount Bromo.
ADVERTISEMENT
SCROLL TO RESUME CONTENT
Since the fire occurred, the bride and groom disappeared and did not appear in public. Both of them were also appointed as witnesses to the fire that occurred on the savanna hill of Mount Bromo.
In the video, the groom, Hendra Purnama, is wearing a gray sweater. Hendra Purnama sat bowed down in front of the Tengger Tribe traditional leaders, at the Ngadisari Village Hall, Sukapura, Probolinggo Regency.
Meanwhile, the bride Pratiwi Mandala Putri and Andrie Wibowo's WO crew just sat quietly listening to Hendra Purnama's apology.
"My deepest apologies," said Hendra Purnama.
"We are addressing this to the entire Tengger indigenous community, to traditional leaders, community leaders and regional government," he continued.
He also apologized to President Joko Widodo.
"We convey this apology to the president and vice president of Indonesia," he said.
Hendra Purnama admitted that when the fire appeared, he and his colleagues had time to extinguish it. However, they can only carry out blackouts on a small scale due to limited equipment.
"Actually, this incident was accidental and when it happened we were there to extinguish it. One way was by taking mineral water," said Hendra Purnama.
Hendra Purnama said the fire was getting bigger because the grass was dry and strong winds were blowing on Mount Bromo.
"We have limitations and the wind conditions are quite strong and the grass is dry," he said.
"So we all couldn't put it out. Hopefully this will be a lesson for us," he explained.
Hendra Purnama also represented the parties at the location and promised not to repeat his actions.
"I will promise not to repeat it and be careful," he concluded.
After conveying his apology, Hendra Purnama sat back down. However, he seemed unable to sit straight and could only bow his head in resignation.
As a result of the fire, the Weddihg Organizer manager was named a suspect and sentenced to 5 years in prison and a fine of IDR 1.5 billion.
(mortgage/mortgage)
Also watch the following video: