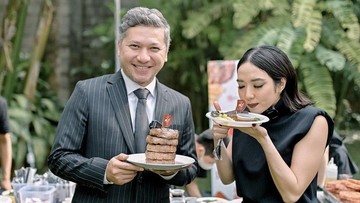 Newsdelivers.com, Insertlive –
Gisela Anastasia and Gading Marten decided to divorce in 2019 after 6 years of building a household.
Until now, many people are still curious about the cause of the breakdown in their household until Gisel finally spoke out.
On Ussy Andhika's YouTube, Gisel admitted that he and Gading adhered to different Christian religions so the two of them came to different churches.
ADVERTISEMENT
SCROLL TO RESUME CONTENT
According to Gisel, Gading Marten adheres to Orthodox Christianity. Meanwhile, Gisel himself adheres to ordinary Christianity.
"We didn't consult God, we didn't go to the same God to solve our problems. So initially I and Mr Gading were both Christians in terms of KTP, but the difference is that Mr Gading is Orthodox and I am an ordinary Christian," said Gisel.
"Obviously the methods are very different, we don't go to the same rituals, we don't get the same showers, so we find our own lives," he added.
Apart from that, because he married when he was still young, Gisel admitted that he did not have enough knowledge to deal with problems so he was shocked when he experienced big problems that led to separation.
As is known, Gisel Anastasia was 23 years old when she married Gading Marten, who was 31 years old at that time.
"I don't have enough knowledge yet, yesterday after separating I finally looked for God more deeply and learned a lot, until finally I found out that in the past, it seemed like both of them weren't worshiping in the same place," he concluded.
(day/day)
Also watch the following video: