Mask Girl is one of the newest Netflix original Korean dramas which was released in August 2023. Consisting of seven episodes, this series presents a story related to one of the dark sides of South Korean life, namely the existence of Korean beauty standards.
For those of you who don't know, Korean beauty standards are a popular term not only in their country of origin, but are also known in other countries, Beauties.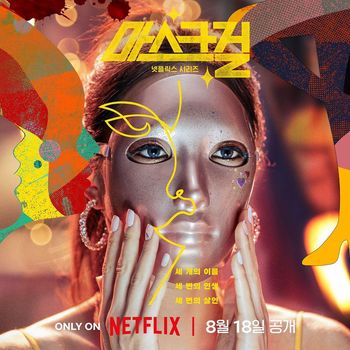 Mask Girl (2023)/ Foto: instagram.com/netflixkr
Of course, every country has different beauty standards, and South Korea is no different. However, beauty standards in Ginseng country can be said to be quite strict.
According to The Korean Times, several aspects of the Korean beauty standard for women are having a slim body shape, bright and flawless skin, a pointed chin, double eyelids, and many more.
Not only women, there are also Korean beauty standards for men, such as demands for having a specific body shape that is neither too full nor too thin. Unfortunately, the existence of Korean beauty standards cannot always be followed by everyone.
Certain people can take various actions to meet the criteria for beauty standards, even though this is not 'required'.
Based on a survey by Gallup Korea in 2015, women in Korea aged 19 to 29 years had plastic surgery. This is also influenced by low self-esteem and the tendency to compare oneself with the appearance of others.
Mask Girl Presents an Issue of Korean Beauty Standards that is 'Relatable' for Some People
Mask Girl (2023)/ Foto: instagram.com/netflixkr
Mask Girl itself tells the story of a female office employee named Kim Mo Mi. In everyday life, he is known as a closed figure and often feels insecure about his facial appearance.
In fact, he had a dream of being the center of attention and appearing on stage since childhood. However, people around her often doubt this because her face is not considered 'pretty'. In fact, her mother also had a similar opinion when she found out about Ki Mo Mi's dream when she was still young.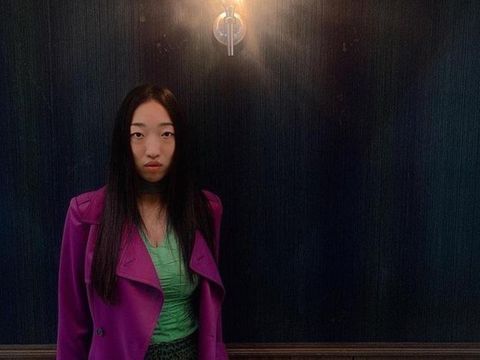 Lee Han Byeol as Kim Mo Mi/Photo: instagram.com/lhanbyeol
Just like in South Korea itself which has Korean beauty standards, Kim Mo Mi's character, who has a simple facial appearance, makes her want to look 'pretty' like other women.
She also has a new identity, namely a livestreamer who is active at night using a mask called 'Mask Girl'. Kim Mo Mi also changed her appearance by wearing beautiful clothes, long blonde wigs, and showing her desires much more freely.
Through this other identity, Kim Mo Mi can be more confident in dancing and singing online and gets a lot of praise from online users.
Discriminatory Actions Against Someone's Appearance in Mask Girl
Lee Han Byeol as Kim Mo Mi/ Photo: Korea Joongang Daily
Apart from raising the issue of Korean beauty standards, Mask Girl also presents a picture of discriminatory actions towards a person's appearance, known as lookism.
The term lookism itself refers to social prejudice against those who are deemed not to meet certain appearance standards, as quoted from Jezebel.
Moreover, many Koreans value aesthetic beauty and are therefore thought to be obsessed with their physical appearance. The desire to achieve society's standards of beauty makes many people undergo procedures to avoid prejudice, as quoted from High School Insider Los Angeles Time.
In one episode of Mask Girl, discriminatory treatment towards Kim Mo Mi was seen as not being 'pretty' by her co-workers, especially male co-workers.
On the other hand, Kim Mo Mi's male colleagues were very kind to the new female employee in their office, especially because the new employee was considered 'beautiful'.
With lookism up to Korean beauty standards, Kim Mo Mi also becomes a character who illustrates a 'real' example of how local people judge someone based on their appearance.
Presenting Stories from Sexual Violence Cases to Murder Tragedies
Ahn Jae Hong as Oh Nam Joo/ Photo: nme.com
Another issue raised in the Korean drama Mask Girl is the case of sexual violence which was colored by the tragedy of murder. It is said that Kim Mo Mi's male co-worker, Oh Nam Joo, knew her identity as 'Mask Girl'.
He began to become obsessed with Kim Mo Mi, to the point of carrying out various actions beyond reason even though initially the man wanted to protect Kim Mo Mi. In the end, Kim Mo Mi became a victim of rape from Oh Nam Joo when she was in her 20s and made the woman take revenge by killing Oh Nam Joo.
On the other hand, Kim Mo Mi's life changed 180 degrees with various surprising events. Like him being 'terrorized' by Oh Nam Joo's mother who still hasn't accepted her son's death and wants to take revenge against Kim Mo Mi.
Differences in Kim Mo Mi's Appearances Shown by Four Different Actresses
Mask Girl (2023)/ Foto: mydramalist.com
Well, there are several differences in the appearance of Kim Mo Mi's character shown in Mask Girl, Beauties. Kim Mo Mi in her 20s who works as an ordinary office employee and also has an identity as a livestreamer is played by Lee Han Byeol and Ji Ji Ahn.
Where Ji Ji Ahn plays the dual role of Kim Mo Mi during the scene where the woman broadcasts live as a livestreamer which shows her body shape, even though her face is covered by a mask.
Then, Kim Mo Mi in her 30s who has had plastic surgery and looks 'beautiful' is played by Jin Nana (Nana 'After School'), while Kim Mo Mi in her 40s is played by Go Hyun Jung.
—
Want to be one of the readers who can take part in various exciting events at Beautynesia? Come on, join the Beautynesia B-Nation reader community. How to REGISTER HERE!
(yes yes)