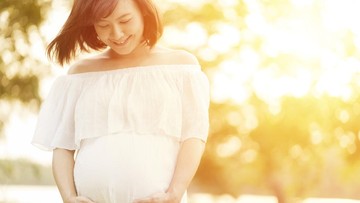 Newsdelivers.com –
A fairly long dry season has hit several countries, including Indonesia. September, which should have entered the rainy season, is still decorated with hot weather.
The hot weather that is currently being felt has an effect on pregnant women and the fetus. Pregnant women generally easily feel hot and hot during pregnancy. This situation is made worse by hot weather like today.
So, how does hot weather actually affect pregnant women and the fetus? To find out the answer, read this article to the end, Mother.
ADVERTISEMENT
SCROLL TO RESUME CONTENT
The impact of hot weather on pregnant women
Reporting from Abcnews, in the midst of hot weather, humans must try to cool themselves. This also applies to pregnant women. In fact, pregnant women must keep their bodies and fetuses cool.
This obligation makes pregnant women have to fight harder and makes them susceptible to dehydration. Dehydration occurs as a result of a pregnant woman's low ability to cool herself.
Apart from causing dehydration, hot weather can also increase the risk of your little one being born prematurely. One study states that heat exposure may have contributed to approximately 25,000 premature births each year.
Hot weather makes the body work extra, in pregnant women this is vulnerable to making mothers and their little ones in the womb experience health complaints. For example, dehydration experienced by pregnant women can cause mothers to experience sepsis.
According to Bloomberg, exposure to high heat can also worsen heart conditions and cause blood clots. These two things can increase the risk of death for both the pregnant mother and the fetus.
Prevent the effects of hot weather
Considering that its effects are quite dangerous for the safety of the mother and fetus, it is important for mothers to know the solutions and prevention regarding this hot weather.
Pregnant women are advised not to be outdoors for long periods, especially if the weather is very hot. Always try to be in a room that has air conditioning, either an AC or a fan.
If you have to leave the house for a long time, mothers are advised to bring a cooling pack. Mothers can put it around the neck and armpits if the heat is unbearable.
"Stay inside, in an air-conditioned room, if you have to go out, take ice cubes from the freezer and put them in your armpits, around your neck, and minimize time outside." Said Dr. Jennifer Ashton, obstetrician specialist, quoted from Abcnews.
After completing outside activities, mothers are advised to immediately take a shower with normal temperature water. Make sure before bathing that your body temperature is normal, because bathing when your body is hot can have negative effects.
Dehydration is the mildest problem and is most often felt as a result of hot weather. If you experience this, there are several foods and drinks that you can consume. Read more fully on the next page, Mother.
For mothers who want to share about parenting and get lots of giveaways, come join the HaiBunda Squad community. Register click HERE. Free!