Suara.com – Selebgram Shabira Alula, who is familiarly called Lala, is currently facing trials. People who don't like Lala's family apparently use black magic to cause unnatural conditions.
Lala had an illness that was not detected medically. Apart from that, Ochi Febrina, Lala's mother, is said to be angry and the house feels hot.
In Lala's Instagram post on Wednesday (13/9/2023), Lala shared the latest update about black magic which was sent to her family. Ochi Febrina, Lala's mother, who was the main target of black magic, finally underwent rukiah.
Lala's mother Rukiah could not be separated from the help of Denny Sumargo who introduced her to Ustaz Muhammad Faizar. In the video shared, Lala's mother screamed in a voice that was not hers when she was being beaten.
Also read: Shabira Alula 'Lala"s father shocked the people closest to him who sent black magic to his family
"Mother's rupiah process. What caused the splash on Lala's body. This is not mother's voice," wrote the video shared by the @shabiraalula account.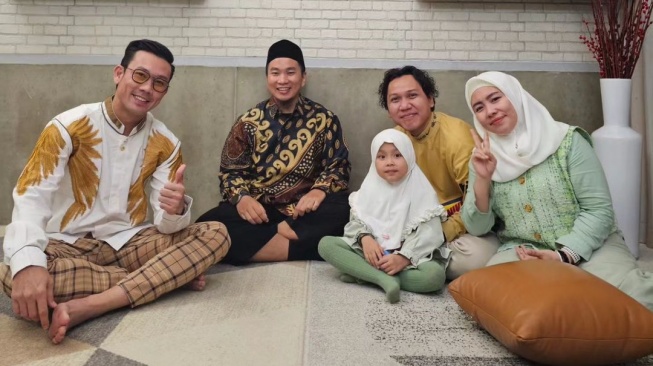 Little celebrity Shabira Alula alias Lala and her parents gathered together with Denny Sumargo and Ustaz Muhammad Faizar. (Instagram)
After the rukiah process was completed, three gushes (rope-shaped magic objects) were found in Lala's house which came out on their own. Even though it is beyond reason, Lala's family testifies that black magic really does exist.
Apart from that, Ochi Febrina, Lala's mother, was determined to wear the hijab after being married. Lala then asked netizens for prayers so that her mother could continue to wear the hijab.
"Masha Allah Tabarakallah, Allah always provides a way through uncle @sumargodenny to meet great people. Like ust @muhammad.faizar. Love uncle," wrote the account @shabiraalula.
"And the most Masha Allah thing is that my mother has decided to wear the hijab after being re-arranged," said the account @shabiraalula.
Also Read: Living Ruqyah and Wearing the Hijab is the Solution for Shabira Alula 'Lala"s Mother to Be Free from Witchcraft
Contributor: Neressa Prahastivi