Enzy Storia did not immediately leave the world of entertainment after getting married. Apart from accompanying her husband, Maulana Kasetra, who is on duty at the Indonesian Embassy in Washington DC, Enzy is still diligent in taking various photo shoots.
After settling in America, Enzy became closer to the centers of fashion events. Seen in her latest portrait, Enzy attended the Kate Spade New York Spring 2024 show which was held at New York City's High Line park.
Kate Spade showed off its new collection to coincide with New York Fashion Week 2024 (NYFW). Enzy also wore a Kate Spade outfit there. This Indonesian artist seems to blend naturally with other artists and influencers.
1. Gaun Sequin Noel Prints
Enzy Story/ Photo: instagram.com/kanmogroup.fashion
A black sequin dress was Enzy Storia's choice. The Kate Spade collection lineup this time includes clothes made from sparkling sequins.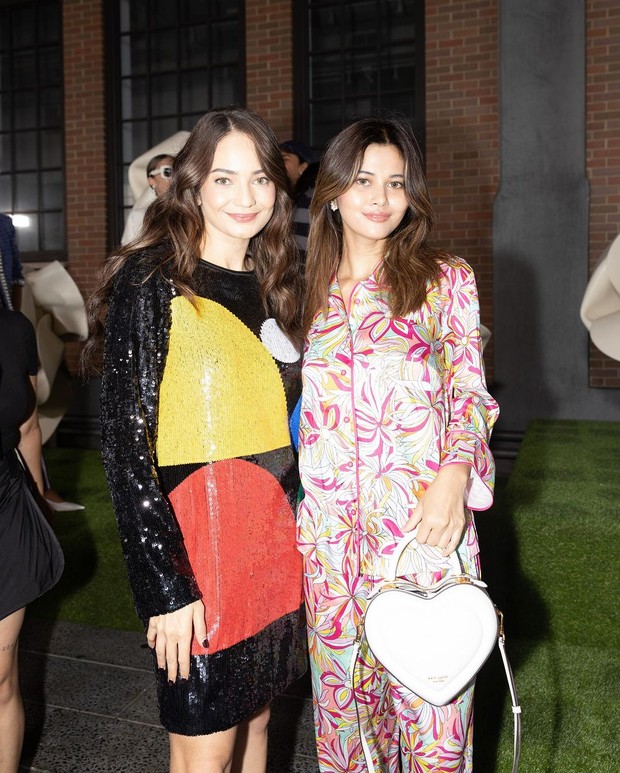 Enzy Storia and Namira Adzani/ Photo: instagram.com/namiraadzani
Enzy looks chic wearing a short, long-sleeved dress with a straight cut. Her nails were decorated in black to match the dress. The look also stands out with a touch of Kate Spade's iconic Noel prints motif, printed large on the surface of the dress in bright spring colors.
2. Four Color Tote
Enzy Story by Chiara King/ Photo: instagram.com/kanmogroup.fashion
Interestingly, Enzy is not awkward twinning with other artists. The dress she wore was exactly the same as singer Chiara King and they took a photo together. Even so, their choice of bags is different.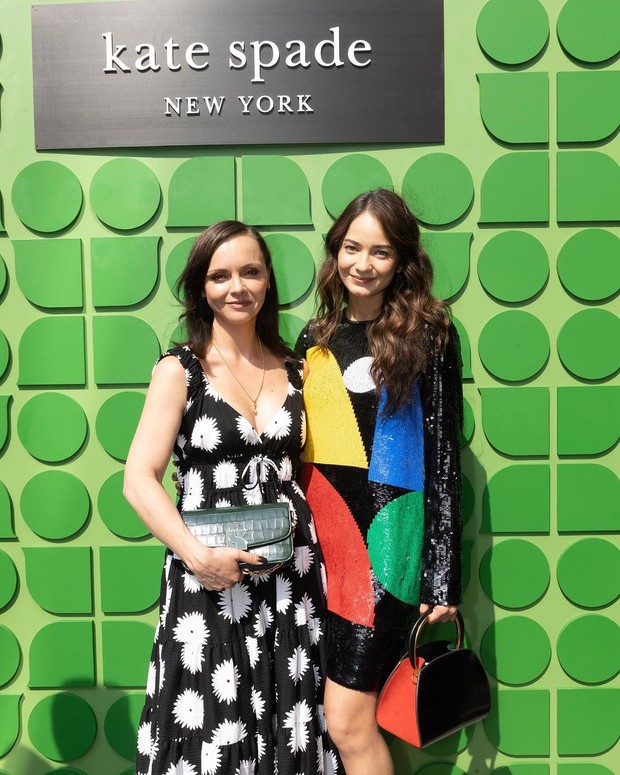 Enzy Story by Christina Ricci/ Photo: instagram.com/kanmogroup.fashion
While Chiara King carried a white bag, Enzy Storia carried a four-colored bag. Enzy chose a top-handle satchel that uses colorblocked leather material.

Enzy Storia and Justine Skye/ Photo: instagram.com/kanmogroup.fashion
The four bag colors include black, blue, green and red. These colors are in line with the periwinkle blue which is still part of the fashion theme of the Kate Spade Spring 2024 collection.
3. Linear Earrings – Curly Brown Hair
Enzy Story/ Photo: instagram.com/enzystoria
Another detail that also makes Enzy Storia's appearance even more stunning is the jewelry she wears. A pair of long earrings or linear earrings is an option, as radiant as the sequin dress worn by Enzy.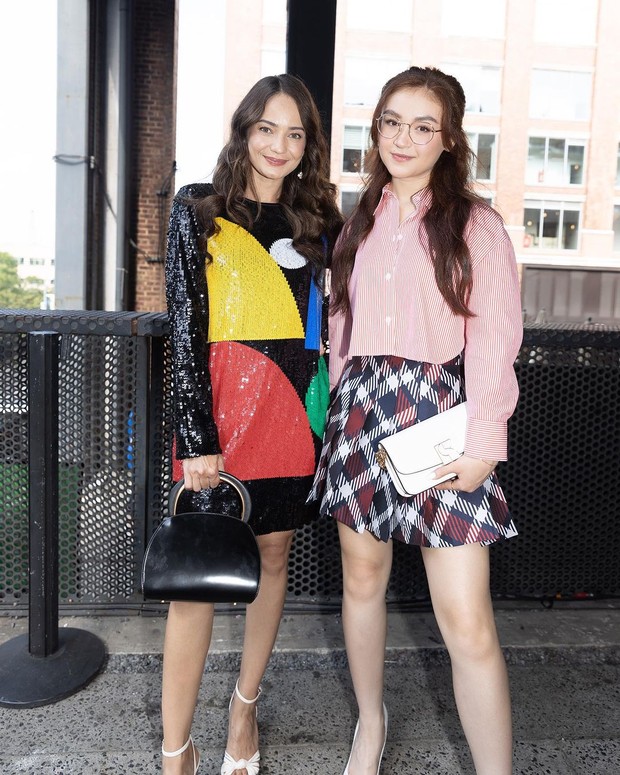 Enzy Storia and Anna Cathcart/ Photo: instagram.com/kanmogroup.fashion
The earrings hang beautifully, slightly hidden among her long, loose hair. Talking about hair, this Indonesian artist of Acehnese-Polish crossbreed looks even more Caucasian with curly hair and a natural brownish color.
4. Happy Hour Heels
Enzy Story/ Photo: instagram.com/kanmogroup.fashion
To perfect her style, Enzy wore white high heels. These are Happy Hour Heels, high leather sandals with twist and slingback accents, as well as thick, transparent heels filled with fancy cocktail decorations.
During the Kate Spade New York show, Enzy Storia seemed to enjoy watching the collection presentation. He also didn't miss out on tasting the sweet treats available, of course in style.
***
Want to be one of the readers who can take part in various exciting events at Beautynesia? Come on, join the Beautynesia reader community, B-Nation. How to REGISTER HERE!
(dmh/dmh)