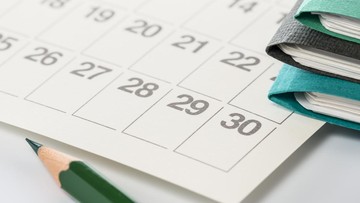 Newsdelivers.com, Insertlive –
The government has set a schedule for national holidays and collective leave for 2024.
This was conveyed in a joint decree (SKB) of three ministers. One of the letters discusses holidays and collective leave for the coming year.
This SKB was signed by three ministers, namely the Minister of Religion Yaqut Cholil Qoumas, the Minister of Manpower Ida Fauziah, and the Minister of State Apparatus Empowerment and Bureaucratic Reform Abdullah Azwar Anas.
ADVERTISEMENT
SCROLL TO RESUME CONTENT
"The government has decided that the national holiday and collective leave will be 27 days. The national holiday will be 17 days and the collective leave will be 10 days," said Coordinating Minister for Human Development and Culture (Menko PMK) Muhadjir Effendy on Tuesday (12/9) quoting detikcom.
The following is a list of national holidays and collective leave in 2024:
National Holidays 2024
January 1 (Monday): Gregorian New Year
February 8 (Thursday): Isra Mi'raj
February 10 (Saturday): Chinese New Year
March 11 (Monday): Holy Day of Silence
March 29 (Friday): Death of Jesus Christ
March 31 (Sunday): Easter
April 10-11 (Wednesday-Thursday): Eid Al-Fitr
May 1 (Wednesday): Labor Day
May 9 (Thursday): Ascension of Jesus Christ
May 23 (Thursday): Vesak Day
June 1 (Saturday): Pancasila Birthday
June 17 (Monday): Eid al-Adha
July 7 (Sunday): Hijri New Year
August 17 (Saturday): Republic of Indonesia Independence Day
September 16 (Monday): Birthday of the Prophet Muhammad saw.
December 25 (Wednesday): Christmas Day
Holiday Together 2024
February 9 (Friday): Chinese New Year Holiday
March 12 (Tuesday): Holiday with the Holy Day of Nyepi
April 8, 9, 12, 15 (Monday, Tuesday, Friday and Monday): Eid Mubarak Holiday
May 10 (Friday): Holiday with the Ascension of Jesus Christ
May 24 (Friday): Holiday for Vesak Day
June 18 (Tuesday): Holiday with Eid al-Adha 1445H
December 26 (Thursday): Holiday for Christmas
(agn/and)
Also watch the following video: