Budi Pekerti is one of the films made by the nation's children which was successfully screened at the prestigious international festival, the Toronto International Film Festival (TIFF). This film by director Wregas Bhanuteja was shown at TIFF on September 9.
Starring Prilly Latuconsina, Angga Yunanda, Dwi Sasono, and Sha Ine Febriyanti, this film set during the pandemic tells the story of Mrs. Prani, a BK teacher whose video of her dispute with market visitors went viral on social media. This caused him and his family to be bullied by society, and Mrs. Prani was even threatened with losing her job.
The screening of the film Budi Pekerti at TIFF was considered a success, and even received a positive response from the invited guests who attended this prestigious event.
Apart from presenting an interesting story, the fashion style of Prilly Latuconsina and her other colleagues when they attended the TIFF World Premiere was also a highlight. On this occasion, they appeared in traditional Indonesian clothing.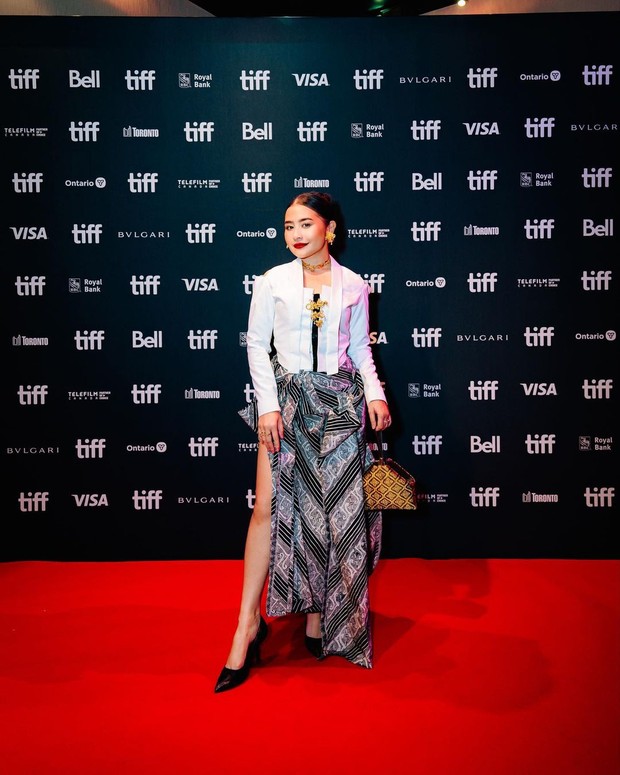 Prilly Latuconsina/Photo: instagram.com/prillylatuconsina96
Prilly Latuconsina, who plays the role of Tita in the film Budi Pekerti, is seen wearing a skirt made of batik cloth with a slit on the right side combined with a white blouse, the new Kutu kebaya model from the House of Radinindra. As decoration, the 26 year old woman wore a gold brooch. Prilly was also seen carrying a brown bag from Lungsin.
Other Appearances of Budi Pekerti Film Actors at TIFF 2023
Appearance of Sha Ine Febriyanti, Dwi Sasono, and Angga Yunanda at TIFF 2023/ Photo: instagram.com/angga
Apart from Prilly Latuconsina, Sha Ine Febriyanti also appeared in a brown dress made from batik cloth. Ine combined her appearance with net-style underwear and a necklace. The woman who plays the role of Mrs. Prani is also seen wearing black boots.
Meanwhile for men, Dwi Sasono and Angga Yunanda chose suits. Dwi Sasono wore a brown suit with a bottle green shirt. To add to the impression of his homeland, this 43 year old man wore a gold Ulur American Style necklace from Nyemas Indah Jewelry.
Meanwhile, Angga Yunanda chose to wear a white shirt and navy trousers combined with a patterned outer.
Even though they appear in different styles of clothing, the clothes worn by the Budi Pekerti players still characterize their beloved homeland.
***
Want to be one of the readers who can take part in various exciting events at Beautynesia? Come on, join the Beautynesia reader community, B-Nation. How to REGISTER HERE!
(dmh/dmh)