Newsdelivers.com –
God's love for His servants comes in different forms. Asep Heryana and Susi Widiastuti were blessed with two little angels named Alkha (12) and Akhtar (5) who experienced cerebral palsy from an early age.
They were both only able to lie stiffly in bed and unable to do other activities like children in general. Activities such as eating, drinking, and changing clothes are absolutely not what they can do except with the help of their mother.
Alkha was born in an imperfect condition because her mother had hypertension when she was pregnant with Alkha. Meanwhile, his eldest son, Akhtar, suffered from brain freeze after developing epilepsy at the age of eight months. Previously, the doctor sentenced Alkha's life not to last long, only up to the age of 7 years. But God had other plans. Alkha is still alive today with her two younger siblings.
ADVERTISEMENT
SCROLL TO RESUME CONTENT
"The doctor said, 'Why did the nurses come to the house? How did the dede survive?' their children want to be like this. I ordered them to be looked after, I was entrusted with them. I accept children like this. I take care of them, I take care of them, I protect them," said Asep.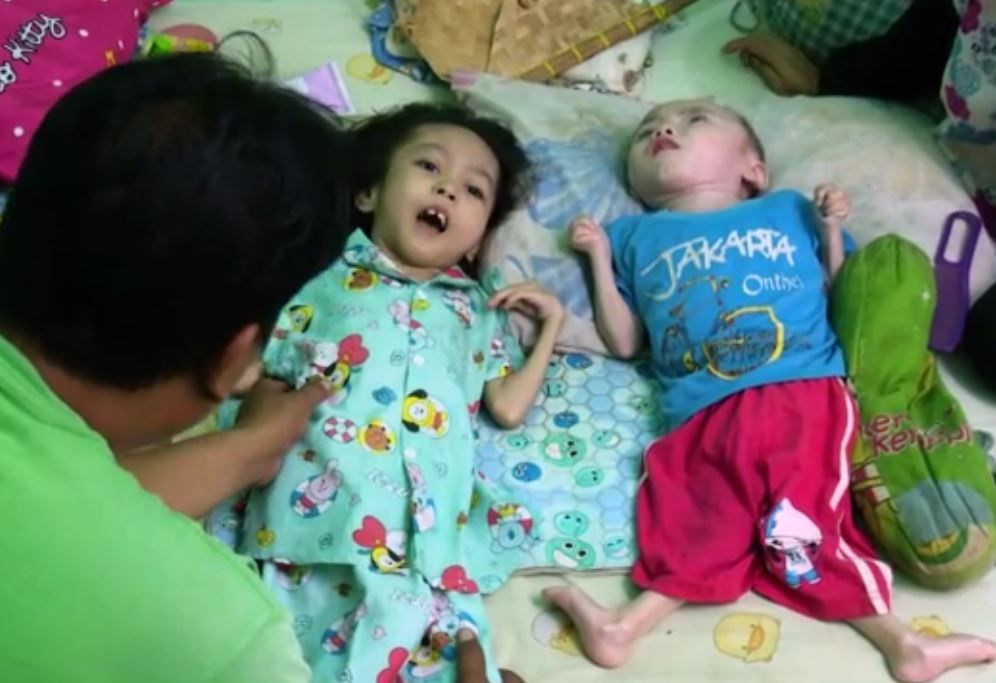 alkha akhtar/ Photo: berbuatbaik.id
Not only are they cared for by their parents, Alkha and Akhtar are also accompanied by another sibling, Aira (8), who never fails to care for Alkha and Akhtar with great affection. The physical limitations experienced by her two siblings did not necessarily make Aira give up her responsibilities as brother and sister. He also often took turns with his mother and father in caring for his two sisters, feeding them and changing clothes for them.
Even though he only works as a daily worker for a grocery store in the Subang area, Asep does not just give up on fate. With a salary of Rp. 80 thousand per day, which he receives at the end of every month, he has to support his four family members and pay rent of Rp. 400 thousand. Not to mention the costs he has to spend to renovate his tiny house which always leaks when it rains and also for the therapy of his two children.
Even though the government has covered Alkha and Akhtar's medical costs, Asep and Susi still have to empty their wallets for accommodation. They have to pay Rp. 250 thousand to rent a car once a week, which is not commensurate with the income they earn.
"You have to have regular therapy. When I get therapy, it's also been done at least once a week. Just because of limitations, I take it sometimes once a month. I change it every week, then I'll bring it to my dede," said Susi.
"Now it's not because of the costs. When his father was working, he still liked taking part in (therapy). Now his father's income is only enough for food, not therapy. If he wants therapy, if he doesn't have therapy, it's a pity, that's what he means, he's stiff, Grandpa," continued Susi.
alkha akhtar/ Photo: berbuatbaik.id
The small rented house occupied by five family members is also not suitable. They have to get used to the condition of the roof almost collapsing and leaking when it rains. Never mind having a house, Asep doesn't even dare to dream of renovating his tiny residence. Even so, their family remains happy with all the existing conditions.
"Yesterday the roof was about to collapse, this is the one in the kitchen there. Everything leaked," said Asep.
Despite all the limitations experienced by their family, Asep and Susi never let their guard down and are always steadfast in making their three children happy. The enthusiasm that once dimmed always rekindled when Alkha and Akhtar smiled happily. They both always believe and never give up on God's gifts and miracles which can come in any form and know no time.
Yes, hopefully there will be a miracle from God to heal both of you, you don't know, do you? "I have to be enthusiastic about having a child like this," said Asep.
"God willing, if you are strong, you will be strengthened. I just ask that I be given more patience so that I can take care of them. So that I can look after them for the rest of my life. Even if I ask Allah too, Neng, don't let the children be taken first, don't "I can still do it. I can still take care of them with my limitations. Don't let them take them away, no, don't," he continued.
Good friends, the story of Alkha and Akhtar is just a part of the story out there that can remind us to be grateful and never give up in the face of all the problems that exist.
Let's together strengthen the hearts of Alkha and Akhtar's family and also help with their medical costs by donating at merdekabaik.id. All donations that #bestfriends give will be distributed 100% without any deductions whatsoever. Come on, let's spread goodness together starting today.
(mul/ziz)