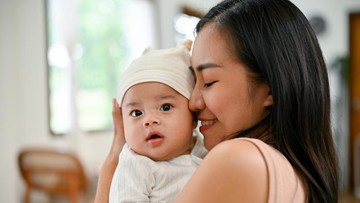 Newsdelivers.com –
Since babies are born, they will adapt and make various kinds of changes. At this stage, the baby's brain will also develop, Mother.
Mothers need to pay attention to a variety of simple skills to complex skills in babies. The development of a baby's brain can even be seen from the age of 1 to 3 months.
This was stated directly by a pediatrician, Dr. Ms. Rita Dewi SpA(K) MARS, on her TikTok account @rda_1985. Previously, HaiBunda had asked permission from Dr. Ms. Rita and is allowed to quote her statement.
ADVERTISEMENT
SCROLL TO RESUME CONTENT
How to detect normal baby brain development
In a video, dr. Ms. Rita revealed several ways to detect brain development in normal babies aged 1-3 months. If you're curious, here's the list:
1. Head control ability
The brain development of children aged 1-3 months is easier to see through their head control abilities, Mother. Doctor Msy Rita said that when mothers put their children on their stomachs, they can lift their heads even for a short time.
"The development of the brain aged 1-3 months is easiest for you to see from your ability to control your head. Try putting your child on his stomach, then he will lift his head even for a moment. And he will only turn to one side," he explained, quoted on Friday (8/9/ 2023).
When the child is 2 months old, the child can lift his head quite high, namely around 45 degrees. Even so, at this age the child's head is still unstable and sways.
Furthermore, this doctor who practices in Palembang said that usually the baby's hands are starting to open. At the age of 3 months, his head control was also better.
"Sometimes the hands can open. And by the age of 3 months, head control is much better. The head is straight and the upper back is also straight," he explained.
"The child seems to be able to reach for objects and sometimes can make cooing sounds. And the mother's child is ready to lie on his stomach," continued Dr. Ms. Rita.
Click read the next page to see other ways to detect the development of babies aged 1-3 months, Mother.
For mothers who want to share about parenting and get lots of giveaways, come join the HaiBunda Squad community. Register click HERE. Free!