When talking about the city of Kudus, people usually immediately associate it with kretek cigarettes. It's not wrong, because the Indonesian kretek industry was born in this city. But actually, in 1930-1970, Kudus was also famous for its batik. Batik with motifs of various flora and fauna and thick with Peranakan culture as well as Islamic culture is its characteristic.
But unfortunately in the 1980s, Kudus batik began to fade. This is because many batik makers are starting to change professions and choose to work in other industries. The Holy Batik was forgotten and abandoned. You could say, Kudus batik is extinct.
Kudus Batik was revived by Bakti Budaya Djarum Foundation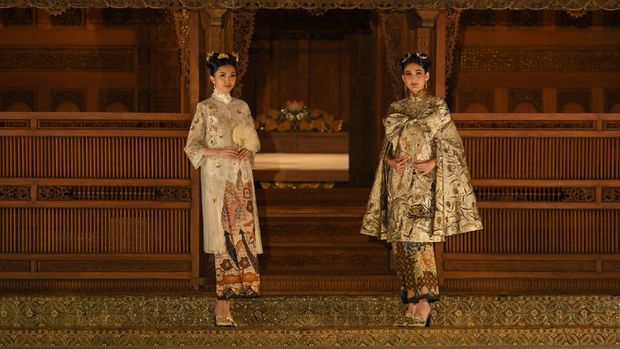 Sandyakala Smara by Denny Wirawan/ Photo: Courtesy of Denny Wirawan
In 2010, Bakti Budaya Djarum Foundation (BBDF) began creating a coaching program to reactivate Kudus batik craftsmen. The aim is to cultivate the next generation to continue making batik so that Kudus batik does not become extinct.
In 2015 BBDF collaborated with Denny Wirawan with the aim of introducing Kudus batik to a wider audience. Denny has even brought Kudus batik to the New York fashion stage.
Batik Kudus returns to the city of Kretek
Sandyakala Smara by Denny Wirawan/ Photo: Courtesy of Denny Wirawan
Since the beginning, BBDF and Denny Wirawan's collaboration has been aimed at preserving Kudus batik and driving the batik economy. In 2023, when Indonesia begins to emerge from the pandemic disaster, it feels very appropriate to bring Kudus batik to the city of origin, while also introducing the city and culture of Kudus. Therefore, the 'Sandyakala Smara' performance was held at the Kudus Yasa Amrta traditional house on September 6 2023.
"Processing Kudus Batik has again become an important part of my creative journey since 2015. This year has been full of the beauty of Kudus Batik, providing inspiration that makes me continue to explore and be creative. "I present the Sandyakala Smara collection as a form of dedication to dig deeper into the unexplored potential of Kudus Batik motifs, after previously presenting the Pasar Malam, Padma and Wedari collections," said designer Denny Wirawan.
Inspiration Sandyakala Smara
Sandyakala Smara by Denny Wirawan/ Photo: Courtesy of Denny Wirawan
Sandyakala Smara is a Sanskrit word which means Twilight and Love. The beauty of the collection is as beautiful and majestic as the evening sun, made with Denny Wirawan's love for Kudus batik.
The variety of batik that Denny displays in his collection is specially designed batik that combines native Kudus and Peranakan culture. It can be seen from the motifs such as ceramic jars, roses and clouds which are the result of acculturation to Peranakan culture. This batik motif was specially designed by Agam Riyadi so that it looks more contemporary.
Apart from that, Denny Wirawan also displays kebaya and cheong sam with a modern but luxurious touch, so they can be worn on various occasions.
Collaboration with Epa Jewel
Denny Wirawan Collaboration with Epa Jewel/ Photo: Courtesy of Denny Wirawan
To perfect his work, Denny Wirawan collaborated with a local accessory brand, Epa Jewel. All collections appear more complete without feeling excessive.
Introducing the charm of the Holy City
Sandyakala Smara by Denny Wirawan/ Photo: Courtesy of Denny Wirawan
Not only does it aim to introduce Denny Wirawan's latest collection, but this fashion show also aims to show the beauty and unique culture of the city of Kudus. A total of 250 people were flown from Newsdelivers.com to enjoy this performance.
"Sandyakala Smara is a form of sincere support in preserving and appreciating the richness of Indonesian cultural literature, especially Kudus Batik which is stunning and inspires creativity to continue to explore and enrich the priceless beauty of Indonesian fabrics. After 8 years of incredible journey, we are proud to bring Batik Kudus back to its roots, to the city of Kudus known as the City of Kretek, for a celebration full of meaning and inspiration. This illustrates that Kudus is not only known as a kretek producer, but also has batik which is of high value and at the same time appreciates the long journey in creating fabrics and patterns that have given a new color to the world of Indonesian fashion. This event was also attended by around 250 invited guests who came to get to know and explore the culture of the city of Kudus. "This is an opportunity to introduce the attractiveness of Kretek City so that it becomes a tourist destination that is able to stimulate the community's economy," said Renitasari Adrian, Program Director of Bakti Budaya Djarum Foundation.
***
Want to be one of the readers who can take part in various exciting events at Beautynesia? Come on, join the Beautynesia reader community, B-Nation. How to REGISTER HERE!
(dmh/dmh)