Suara Serang – The 2023 Indonesia Plantation Expo (Bunex) event on the 3rd day was still lively and received a positive response from the public.
One of the series of Bunex 2023 activities is Business Matching, which carries the theme of Strengthening Plantation Downstreaming to Increase Partnerships and Access to Sustainable Plantation Markets.
This activity was also attended by Ambassadors from the Philippines, Cambodia, Egypt, Kenya, and representatives from the Embassies of Egypt, Belarus, Moldova, Portugal and Mozambique, as well as plantation partners or off takers including representatives from Caldera North America, Business Partner Caldera Coffee PT. Barco, PT. GWI, Garuda Asia Nusantara, PT. Minamas Group, PT. Eagle High Plantations, PT. Madubaru, Lulu Hypermart, Accor Group and others.
Director General of Plantations, Andi Nur Alam Syah said, this business matching is the second time it has been carried out in the Bunex 2023 series, with the concept of buyers meet sellers, which is intended to bring together plantation MSMEs with off takers to increase MSME market access and provide choices. sourcing plantation products with high added value and good quality.
Also Read: Denpasar Police Still Investigating Bokeh Videos of Foreigners in Front of Residents' Houses in Badung
"At the 2nd Bunex activity in 2023, an MoU was signed between plantation-assisted SMEs and offtakers, worth a total of IDR 1,027,050,000,000, for coffee, copra, cocoa and coconut charcoal briquettes for export purposes to Canada, Portugal, "Germany and the Middle East, as well as of course our domestic market," said Andi Nur.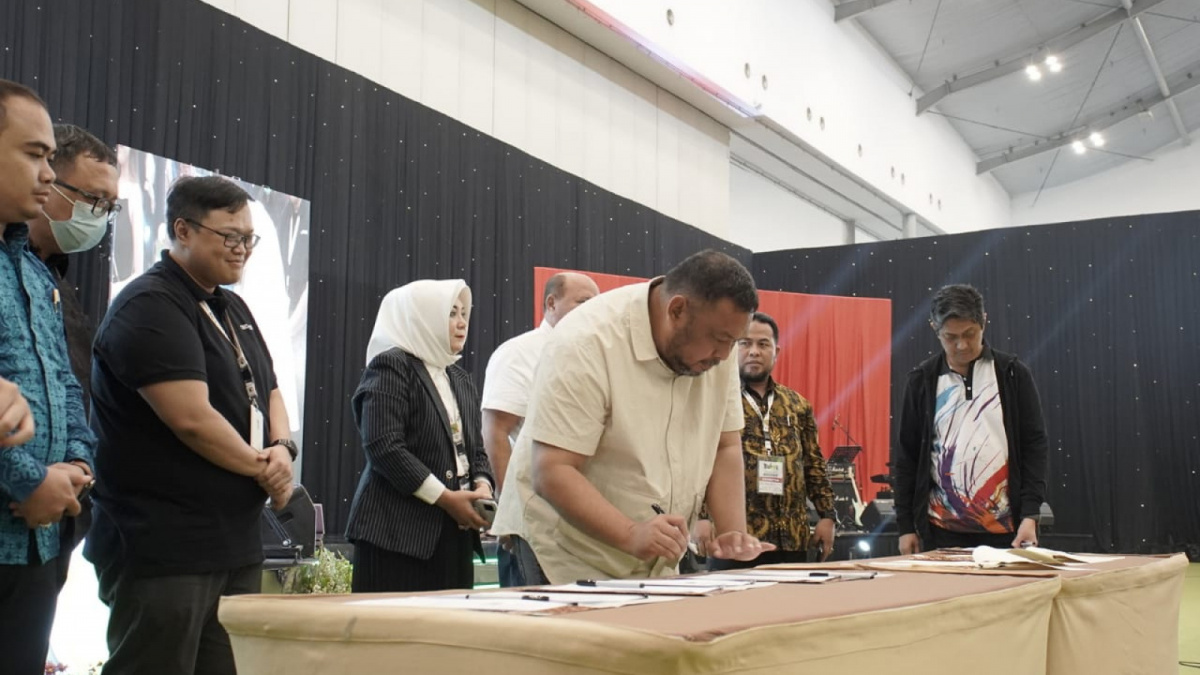 Indonesia Plantation Expo (Bunex) 2023 (source: Doc. Bunex 2023/Suara Serang)
At this business matching event, a cooperation agreement or MoU was signed between SMEs assisted by the Directorate General of Plantations, namely Caldera Coffee and Next Trader located in Lisbon, Portugal for the sale of Arabica and Robusta coffee beans to Europe worth IDR. 615 billion per year, Legend of Java Sugar with PT. Barco for copra sales of IDR. 96 billion, collaboration for processed cocoa with PT. GWI of Rp. 14.4 billion and Garuda Asia Nusantara Rp. 8.4 billion per year, and Tom Cococha Indonesia with Tom Cococha GMGH Germany for the sale of coconut briquette charcoal to the German and Middle East markets with a value of IDR 292 billion.
It is known that from the 3 days of Bunex 2023, the total profit value for both exports and local sales is Legenda Java Sugar IDR 118,800,000,000, Caldera IDR 615,750,000,000, Tomkokoca IDR 292,500,000,000, a total of 1,027,050,000,000.
"This MoU was produced by SMEs assisted by the Directorate General of Plantations and their purchasing partners. We hope that in the future other plantation SMEs will continue to grow who can also partner with buyers, thereby further encouraging the growth of plantation exports in the future," he said.
"Hopefully the efforts we are making can make a positive contribution to plantation development and increase the income and welfare of planters. Let's build Indonesian plantations together, hopefully the future will be better," hoped Andi Nur.
Also read: Because of Rebecca Klopper's exciting video, Fadly Faisal and Haji Faisal are said to not get along, only Fuji said goodbye to Umrah even though they left together
On this third day, apart from business matching, various activities were also carried out including the handing over of coffee artists' artwork to the Directorate General of Plantations, a talk show, a beautiful & healthy coaching clinic with palm oil, success stories of palm oil farmers, success stories of downstreaming plantation products, tea workshops, and group talks. Directorate General of Plantations with the theme Indonesian Palm Oil Now and Later, as well as other interesting activities.
Business actors in the palm oil sector and other plantation sectors are actively participating in BUNEX 2023 activities and are very committed to building plantations.
"We are collaborating together to support MSMEs to participate in the BUNEX 2023 event, everything from accommodation to transportation is paid for, because the government wants to encourage MSMEs to make their products better known to more people," said Andi.
Palm oil commodities have a very large contribution to the plantation sector, almost 90% of agricultural exports are supported by palm oil. Palm oil is able to support our economy. We also distribute scholarship funds every year to around 2000 students who we provide scholarships through export tax funds collected by BPDPKS. Apart from palm oil, we certainly need to encourage other strategic commodities to continue producing and creating added value and competitiveness.