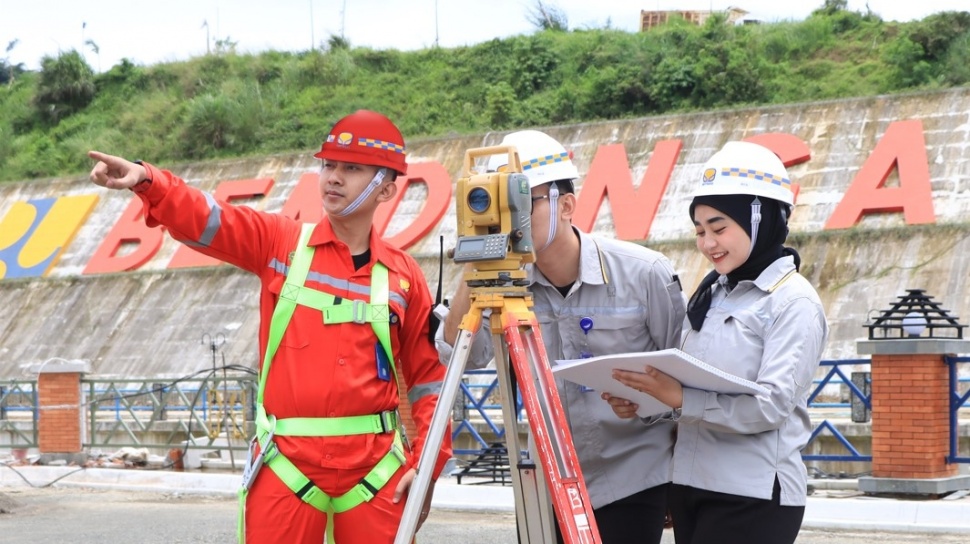 Suara.com – PT Brantas Abipraya (Persero) ensures the implementation of good corporate governance (GCG) in all its projects. This is a form of the company's commitment to participating in encouraging the creation of a healthy business climate based on AKHLAK cultural values ​​for Abipraya Partners and vendors.
"As an effort to support a good national business climate, Brantas Abipraya ensures that payments to its partners are made on time and in the right amount," said Brantas Abipraya Director of Finance and Risk Management, Suradi.
According to Suradi, Brantas Abipraya will always continue to strengthen healthy relationships with partners, in accordance with the aspirations of this BUMN Construction business transformation which is based on the implementation of good corporate governance, risk management (Risk), and compliance (Compliance). GRC).
The management of Brantas Abipraya is committed to ensuring the fulfillment of the rights of partners and vendors through improving business processes and strengthening governance and risk management. In the Supply Chain Management Transformation at Brantas Abipraya, a special vendor management unit has been formed, namely the Vendor Management System Unit (VMS Unit).
Also Read: DKI Provincial Government Builds Bantargebang RDF, Private Sector Wants to Establish Waste Processing into Electrical Energy in Penjaringan
This also makes procurement and payment management centralized. The existence of this VMS Unit is to manage good relations with vendors by centralizing all vendor information which aims to streamline the process. Not only that, the Abipraya VMS also centralizes all activities related to vendors, including vendor orientation, contract management, performance tracking, and payment processing.
So it is hoped that with this unit, Brantas Abipraya can increase efficiency, identify the risk of late payments, and reduce the risk of overpayment or duplicate payments.
He also said that Brantas Abipraya had proven its seriousness in Governance Risk and Compliance (GRC) practices in managing its business, even this BUMN Karya had won three awards at the 2022 TOP GRC Awards, namely Top GRC Awards 2022 #4 stars, The Most Committed GRC Leader 2022, The High Performing Board of Commissioners on GRC 2022.
After the Covid-19 pandemic, there were several impacts felt by the Company, in order to maintain the performance and productivity of the Company, several business strategies have been implemented including, in the construction segment with a strategy, maintaining the market leader position in the Water Resources (SDA) sector, Even though it is known as the best state-owned company in dam construction, Brantas Abipraya will continue to increase its non-natural resources market share.
Then in the New and Renewable Energy (EBT) segment, through its subsidiary, Brantas Abipraya has realized the investment plan for PLTM, PLTA, which meets eligibility standards, and develops a PLTM/PLTA investment plan in accordance with the government's plan.
Also Read: Entrepreneurs from Kazakhstan Interested in Investing in the IKN Mega Project
"The development of EBT is a government program until 2030. This EBT segment will be an added value for Brantas Abipraya and its subsidiaries. "And we hope it will grow in accordance with the mandate from the government," said Suradi.
Next, in the other water and energy management segments, this BUMN has a strategy to increase SPAM investment realization, increase WWTP investment realization, and so on. As well as the fifth segment, other investments with a strategy to increase the development of residential and commercial products, and so on.
All of these strategies are implemented to achieve positive performance, but are not left behind by GRC practices in companies starting from the top management level to those responsible for GCG aspects, risk management, and compliance with existing regulations.
"Brantas Abipraya will continue to focus on developing Indonesia through superior infrastructure works. "Of course, this can be achieved, one of the ways is with the support and contribution of our work partners. We will continue to strengthen the creation of a good business ecosystem so that Brantas Abipraya can continue to provide quality and best quality infrastructure works," concluded Suradi.