New York's prestigious New York Fashion Week (NYFW) is back this September, showcasing designers' latest collections for next season. One of them is Coach, which has just released its Spring Summer 2024 collection under the direction of creative director Stuart Vevers. This show also marks 10 years of designer Stuart Vevers with Coach.
Sitting on the benches of the Coach show guests were artists and influencers from various countries. Held at the iconic New York Public Library, several Indonesian artists were also seen watching the show. At NYFW this time there were Isyana Sarasvati and Angga Yunanda who looked stylish in all Coach attire.
Angga Yunanda
Angga Yunanda/ Photo: instagram.com/angga
Angga Yunanda combines ripped jeans and a shirt which is then covered with a long, thick coat. The Indonesian artist, the film star Budi Pekerti, carries a black star bag to match his shirt. The look is rebellious but also neat with a belt at the waist and shiny black shoes, as well as a neat hairstyle with a bit of a comma hair style.
Isyana Sarasvati
Isyana Sarasvati and Angga Yunanda/ Photo: instagram.com/isyanasarasvati
Isyana Sarasvati also wears a jeans or denim outfit and a thick coat. She chose a straight-cut midi skirt with high slits on both sides. The loafers he wore were black to match the top, while his short coat was cream colored.
The singer of the song Stay in the Soul is still loyal to her red hair with bangs, this time tied neatly at the back. In his hand was a cute dino-shaped tote. The bag released by Coach this time is indeed playful, using shapes such as ducks, hearts and stars which come with detailed motifs and elegant quilting techniques.
With Other Artists
Angga Yunanda and Lee Young Ji/ Photo: instagram.com/angga
Events such as New York Fashion Week always provide interesting views with the interactions of artists. In this Coach show, for example, fans can see Angga Yunanda and Korean artist Lee Young Ji in one frame. Lee Young Ji, the rapper who is also the Coach brand ambassador, looks elegant wearing a black sleeveless dress.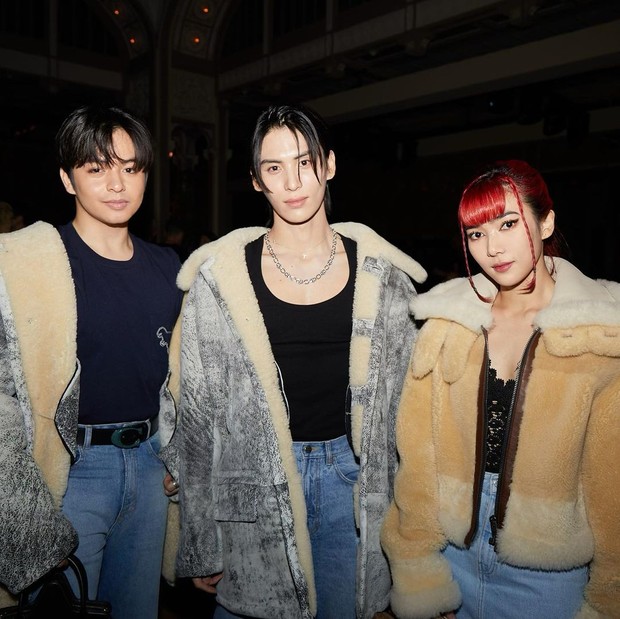 List of Artists at Show Coach SS24 NYFW/ Photo: instagram.com/isyanasarasvati
Angga Yunanda and Isyana Sarasvati were also seen capturing the moment with SF9's Taeyang in a photo. All three of them matched wearing thick coats.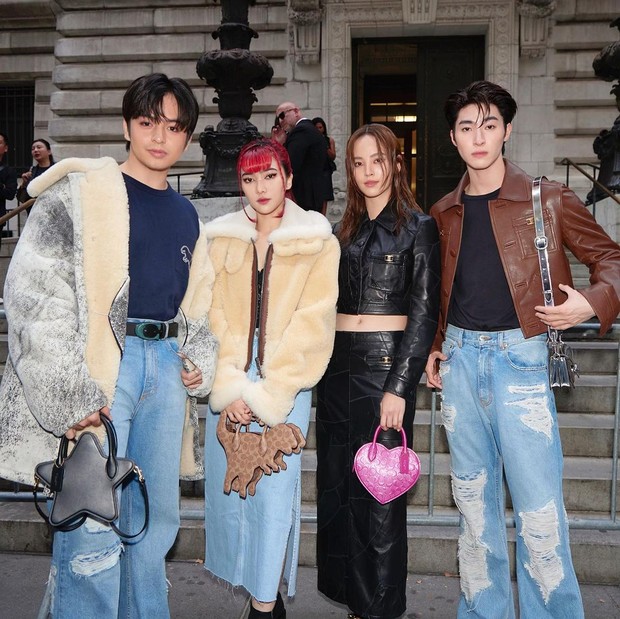 List of Artists at Show Coach SS24 NYFW/ Photo: instagram.com/isyanasarasvati
In another portrait, Thai artists Blue Pongtiwat Tangwancharoen and Nuttanicha Dungwattanawich are seen joining in, who chose an all-leather look. Apart from that, there are many more artists and influencers who are familiarizing themselves at the Coach show this time, namely Chaile Son from South Korea, Wu Jinyan from China, and Glenn Yong from Singapore.
***
Want to be one of the readers who can take part in various exciting events at Beautynesia? Come on, join the Beautynesia reader community, B-Nation. How to REGISTER HERE!
(dmh/dmh)