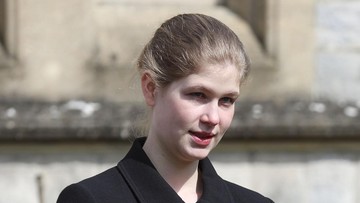 Newsdelivers.com –
The story of the British Royal family always attracts the attention of netizens. One of the royal families who is also not out of the spotlight is Queen Elizabeth II's granddaughter, Lady Louise Windsor.
Lady Louise Windsor is one of Queen Elizabeth II's granddaughters. He is known as someone who wants to live independently even though he has been blessed with wealth since childhood.
When she graduated from high school, the 19 year old girl decided to spend her summer vacation as a worker in a city park in England, Bunda. Lady Louise is even paid a nominal salary below the UK minimum wage (UMR).
ADVERTISEMENT
SCROLL TO RESUME CONTENT
Reporting from the Daily Mail page, Lady Louise is only paid around IDR 117 thousand per hour. Meanwhile, the UMR in England can reach IDR 120 thousand to IDR 160 thousand per hour.
The task that Lady Louise performed
While working, what Lady Louise does is considered manual labor, Mother. He helps move pots, plant plants, and even greet customers.
This is certainly something that is very rarely done by the royal family. Lady Louise's action immediately flooded the daughter of Prince Edward and Sophie Wessex with praise.
"You would never imagine the Queen's granddaughter would take on the role behind the till," said a customer at the park.
"She is a very simple and sweet young woman who is polite and attentive to customers. She seems to love the job," praised another customer.
Lady Louise buys a used car
Even though she only earns a salary below the UK minimum wage, Lady Louise can actually buy a car. This woman, born in 2003, was seen driving a blue VW Polo in the Windsor Royal Estate area on Sunday (3/9/2023).
This car is known to be a used car that is not the latest version. This is Lady Louise's first car, Mother.
Want to know more about the story of Lady Louise, who is known for being independent? CONTINUE READING CLICK HERE.
For mothers who want to share about parenting and get lots of giveaways, come join the HaiBunda Squad community. Register click HERE. Free!
(mua/fir)