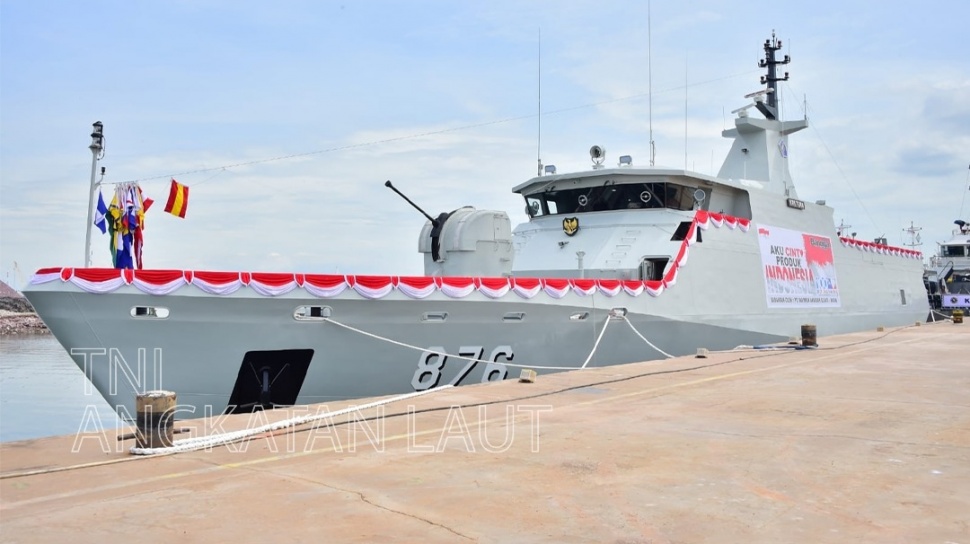 Suara.com – Improving the quality of RI's marine defense equipment continues to be carried out. Most recently, the Indonesian Navy's fast patrol boats have officially increased. It is KRI Tuna 876 which strengthens the maritime line of the Indonesian Navy's authority. You can take a quick look at the sundries of the KRI Tuna in this short article.
The launch of the KRI Tuna 876 itself was carried out by the Chief of Naval Staff, Admiral Muhammad Ali, on Thursday, September 7, 2023. Being part of the nation's defense equipment made by PT Karimun Anugrah Sejati, this ship unit was built for approximately 22 months.
KRI Tuna 876 specifications
For its own specifications, this fast boat has an overall length of 62.40 meters, a width of 8.80 meters and a height of 19.37 meters. The maximum speed of the KRI Tuna 765 itself is 24 knots, with a cruising speed of 17 knots.
Also Read: Giving Tips to Survive in the Forest, Indonesian Navy Marines Teach Singaporean and Japanese Soldiers to Eat Lizards and Snakes
In terms of weapons, KRI Tuna 876 is equipped with 1 unit of 40 mm cannon and 2 units of 12.7 mm cannon. In its operation, optimally the fast patrol boat requires around 50 personnel.
Commanded by Marine Major Muhammad Arif who was confirmed directly by Admiral Muhammad Ali, he will have full control as the number one person on this warship.
This is stated in the KSAL Decree Number Kep/2193/IX/2023 dated 1 September 2023 concerning the Inauguration of the Commander of the Republic of Indonesia warship Tuna 876.
Advantages of KRI Tuna 876
Talking about advantages in terms of production, this KRI has a TKDN level that continues to increase compared to previous domestically produced KRI. This indicates that the quality of domestic raw materials continues to rise, and it is hoped that in the future this will continue to increase.
Also Read: SAR Evacuation Struggle for 8 Banyumas Gold Miners: Using Sophisticated Cameras, Collaborating with the Indonesian Navy
The weapons embedded in this KRI have great power. In addition to the sea cannon, the weapons inside are anti-ship guided missiles, and air defense systems.
In this case, KRI Tuna 876 will be able to play a role in escorting convoys, protecting water areas and precision hitting identified targets.
Apart from that, there is also a sophisticated radar and sensor system, enabling maximum monitoring and detection of threats in the air and at sea. It doesn't stop there, the latest communications system allows effective coordination between this warship and the Indonesian Navy's central headquarters.
Fast, agile, effective and accurate, at least a little of the above can give an idea of ​​the various KRI Tuna 876 which was launched with its 'twin brother' KRI Marlin. We hope this is a useful article, and good luck with your next activity!
Contributor : I Made Rendika Ardian