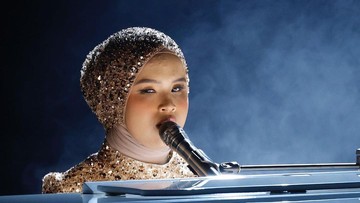 Newsdelivers.com, Insertlive –
Putri Ariani is a contestant from Indonesia who managed to qualify for the final round of the international talent search event, America's Got Talent (AGT) 2023.
To date, there are five other contestants competing with Putri Ariani for the title.
The final round of AGT will be broadcast on the NBC TV channel on Tuesday (26/9) evening United States time or Wednesday (27/9) morning Indonesian time.
ADVERTISEMENT
SCROLL TO RESUME CONTENT
Meanwhile, the announcement of the winner of the 18th season of AGT will air the following day, Wednesday (27/9) United States time or Thursday (28/9) Indonesian time.
For your information, the last episode of America's Got Talent this season will be broadcast for two hours.
Putri Ariani's performance in the final round of AGT 2023 will be broadcast via the NBC and YouTube America's Got Talent streaming services.
(Gambas:Youtube)
Viewers can support their favorite contestants by voting up to the final performance episode on Tuesday (26/9).
Previously, make sure the connection area is included in the voting area so that viewers can vote.
The other five contestants who advanced to the final round with Princess Ariani were Mzansi Youth Choir, Lavender Darcangelo, Adrian Stoica and Hurricane, Ahren Belisle and Murmuration.
AGT has shared news via social media stating that Princess Ariani has qualified for the final round of America's Got Talent (2023) after appearing in the semifinals on Wednesday (6/9) yesterday.
"@arianinismaputri has something to make him smile," wrote the AGT account in his statement, Thursday (7/9) Indonesian time.
"She's headed for the #AGT Finale!" said AGT.
Previously, Putri Ariani performed the song I Still Haven't Found What You're Looking For which was popularized by U2 when appearing in the semifinals of AGT 2023.
Putri Ariani received a standing ovation from the four judges, namely Simon Cowell, Sofia Vergara, Heidi Klum, and Howie Mandel after completing her performance.
The audience was also amazed to witness Putri Ariani's performance live at the Pasadena Civic Auditorium.
One of the judges, Simon Cowell, admitted that he was speechless after watching Putri's stunning performance on the AGT semifinal stage.
Apart from that, Sofia Vergara said that Princess Ariani's appearance was perfect and spectacular.
Howie Mandel also praised Putri with a short comment, namely perfection. Heidi Klum also admitted that Putri's voice was like an angel.
Heidi also hopes that the owner of the song, U2's Bono, can watch Putri's performance when she performs I Still Haven't Found What I'm Looking For.
(Zalsabila Natasya/agn)
Also watch the following video: