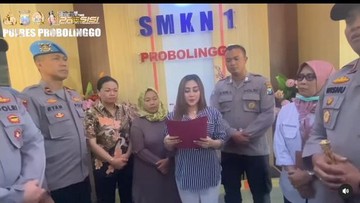 Newsdelivers.com, Insertlive –
Luluk Sofiatul Jannah, Tiktoker Probolinggo went viral after scolding a female student who was interning at a supermarket.
Through his TikTok account (@luluk.nuril), Luluk uploaded a video of himself protesting because he was dissatisfied with the female intern's performance.
The video suddenly became a topic of conversation, until Luluk's husband, who works as a police officer, was also highlighted.
ADVERTISEMENT
SCROLL TO RESUME CONTENT
Luluk's husband is Nuril Huda, a police officer in Probolinggo. Bripka Nuril has served at the Tiris Police for eight years. Three months ago, he received a promotion to become Head of the Community Development Unit of the Tiris Police.
However, Nuril had to give up his position as a result of his wife going viral when she scolded an intern at a supermarket. Apart from that, Nuril also has to undergo a code of ethics trial.
"So, we have removed the sanction in question (Bripka Nuril) from his current position (Kanit Binmas Polsek Tiris) and from the Tiris Police we have returned him to the Polres. Meanwhile, the code of ethics and disciplinary hearing process is underway, being handled by Propam," said Probolinggo Police Chief AKBP Wisnu Wardana on Wednesday (6/9), quoting from detikJatim.
The police admit that they don't play around in handling cases like this. They also expressed their gratitude for the role of netizens.
"We are focused, we are serious in dealing with this problem. I also appreciate and express my deepest gratitude to the community, netizens who provide constructive input to us so that later we can serve them better," he concluded.
Meanwhile, Luluk and the female interns held mediation on Wednesday (6/9) which resulted in a peace agreement.
(KHS/KHS)
Also watch the following video: