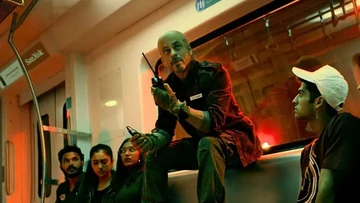 Newsdelivers.com, Insertlive –
Shah Rukh Khan returns to the big screen by starring in the latest film entitled Jawan.
Shah Rukh Khan's latest film also received a warm welcome from his fans.
Quoted from CNN, at the premiere of the film Jawan on Wednesday (6/9), fans had packed the cinema since 4.30 am.
ADVERTISEMENT
TAKE THE QUIZ
SCROLL TO RESUME CONTENT
Fans queued outside the cinema cheering and dancing before watching the film Jawan. This moment was also uploaded by the actor's fan club on social media.
Shah Rukh Khan then responded by thanking fans who continue to support him and his latest projects.
"Love you guys and girls. I hope you enjoy the entertainment. Stay awake to see you at the cinema. So much love and thanks to you," wrote Shah Rukh Khan.
The synopsis of the film Jawan tells the story of Veer (Shah Rukh Khan), an Indian secret agent. He has the determination to take revenge on those who have destroyed his family.
Since he was a teenager, Veer lived in a slum area in Mumbai. Veer grows into an emotional figure and one of the triggers is because Veer witnesses his family being destroyed by corruptors.
When he grew up, Veer joined the Indian special forces. In this position, Veer uses all his skills and abilities to fight crime and injustice.
In the special forces, Veer meets a woman with the same background as himself, Sanya (Nayanthara). Armed with an equally sad past, Sanya works together with Veer to eradicate crime.
In Indonesia, the film Jawan can be seen in cinemas on Thursday (7/9).
(he/him)
Also watch the following video: