Ordinary coffee is energy-boosting ammunition to get through the day. But nowadays, creativity gives birth to a variety of unique coffee flavors ranging from a mixture of milk to syrup. Coffee is also increasingly loved because it suits the taste through a mixture of certain ingredients so that it fits the tongue of the connoisseur.
Fortunately, now everyone can become a barista at home with a compact coffee machine with a fast coffee making process as offered by the Nespresso Vertuo Pop. Not only is it practical for producing premium coffee at home, the bright and cheerful colors that have just been presented seem to support your morning to be more enthusiastic and productive.
Available in 5 Colors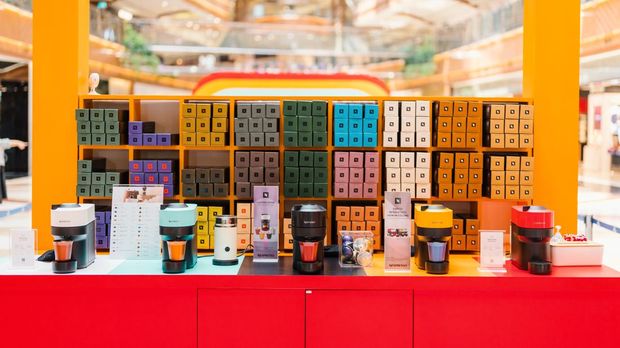 5 warna Nespresso Vertuo Pop/ Photo: Courtesy of Nespresso
Now home coffee machines don't have to take up space with monotonous colors. Nespresso Vertuo Pop can beautify the coffee corner in your home with the favorite colors available, namely The Liquorice Black and Coconut White for those of you who love neutral colors, as well as Spicy Red, Mango Yellow and Aqua Mint which have a playful nuance. So, the coffee machine is not only functional, but also adds to the aesthetics of the room.
Centrifusion Technology that Accelerates the Manufacturing Process
Nespresso Vertuo Pop warna Coconut White/ Foto: Courtesy of Nespresso
"At Nespresso, we always strive to push boundaries in the world of coffee, machines, services and continuous innovation, thereby bringing a unique coffee experience and producing a cup of coffee that is always delicious," explained Fabio De Gregorio as Regional Development Manager at Nespresso, as stated in the statement. quoted from the press release. Therefore, Centrifusion technology is one of the highlights of this brand-new coffee machine.
Centrifusion allows the machine to analyze the unique barcode contained in each Nespresso capsule which is available in 4 sizes, namely Mug size 250 ml, Gran Lungo size 150 ml, Double Espresso size 80 ml, and Espresso size 40 ml. The barcode functions to determine the amount of water and temperature so you don't need to worry about the results because they are exactly right.
Coffee That Can Be Created with Various Recipes
Kopi Chocolate Fudge Reverso/ Photo: Dok. Beautynesia
Each Nespresso capsule has various types with specific aromas and sizes that can be adjusted to your needs. Interestingly, every coffee you make doesn't have to be the same, but there are many ways to make a cup of coffee more delicious.
For example, the Chocolate Fudge Reverso recipe where a combination of sweet chocolate bars mixed with warm Nespresso coffee, milk and a sprinkle of chocolate powder makes a creamy and delicious drink.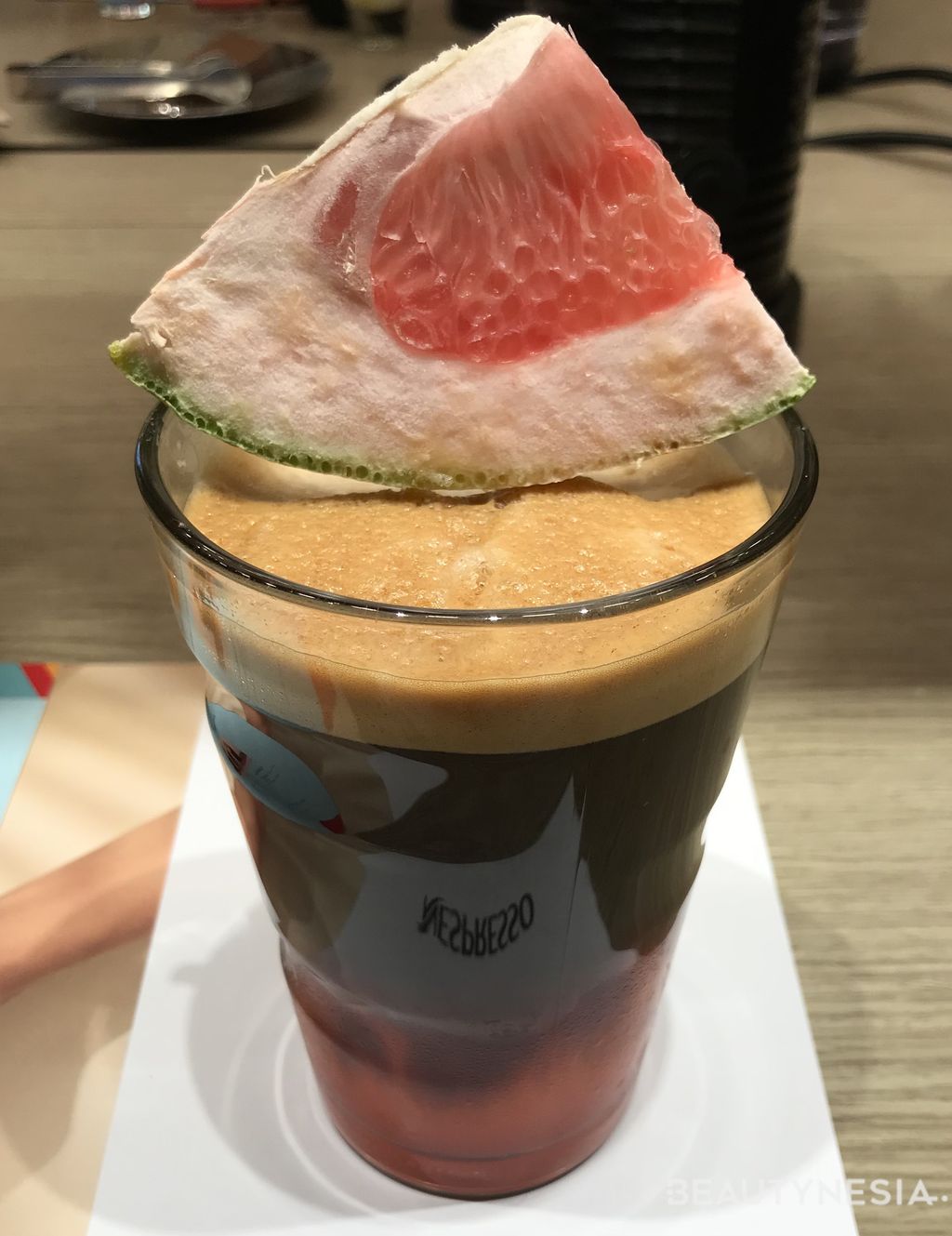 Nespresso Coffee N' Pink Grapefruit Tonic/ Foto: Dok. Beautynesia
However, if you want refreshing coffee, the Coffee N' Pink Grapefruit Tonic recipe which only requires 4 ingredients is a must try. Simply mix 80 ml of tonic in a glass filled with ice, 10 ml of grapefruit syrup, then mix it with 1 capsule of Nespresso coffee, and voila! Iced coffee with the freshness of this fruit is ready to be eaten in hot weather.
You can also see other recipes here, Beauties.
Sustainability Program
Nespresso Vertuo Pop World/ Photo: Courtesy of Nespresso
As part of their sustainability program, you don't need to throw used capsules in the trash. Just put it in a separate plastic bag, then return it to the Nespresso boutique to be processed again.
Can you guess what items can be made from aluminum waste and coffee grounds? Aluminum wrap will be transformed into everyday items, such as bicycles, pens, chopsticks, and others. Meanwhile, used coffee grounds will be used as compost by local farmers.
Enjoy your coffee, Beauties!
***
Want to be one of the readers who can take part in various exciting events at Beautynesia? Come on, join the Beautynesia reader community, B-Nation. How to REGISTER HERE!
(dmh/dmh)