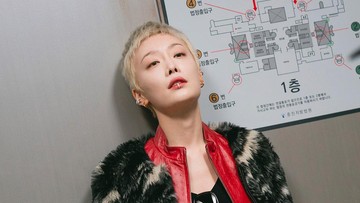 Newsdelivers.com, Insertlive –
Actress Kim Hieora is currently experiencing bullying issues. This slanted news emerged after Dispatch released a report regarding accusations that Kim Hieora was a bully during school.
The report said Kim Hieora was a member of Big Sangji, a group known for carrying out attacks, bullying and extortion.
Kim Hieora's agency, GRAM Entertainment, then responded to Dispatch's report through a quite long statement.
ADVERTISEMENT
SCROLL TO RESUME CONTENT
GRAM Entertainment confirmed that Kim Hieora is part of the Big Sangji group and hangs out with the other members.
However, the agency firmly denied reports that Kim Hieora had committed bullying. They emphasized that the actress had never been involved in cases of school violence.
The agency will also take legal measures to overcome actions that defame Kim Hieora.
GRAM Entertainment said they had told media outlets the true facts to avoid any lingering misunderstandings.
They also hope that no more parties will spread information or reports that give rise to false speculation regarding Kim Hieora.
Meanwhile, Kim Hieora, via her personal Instagram page, apologized to fans for this bullying issue.
"I apologize for causing worry recently. As I ask with a sincere heart, I plan to face every situation honestly and calmly," wrote Kim Hieora.
"I apologize once again to everyone who supports me and believes in me, and I sincerely apologize to those who have been hurt by me, even now. Because I know many people believe in me, I will continue to move forward without lies," he closed.
(KHS/and)
Also watch the following video: