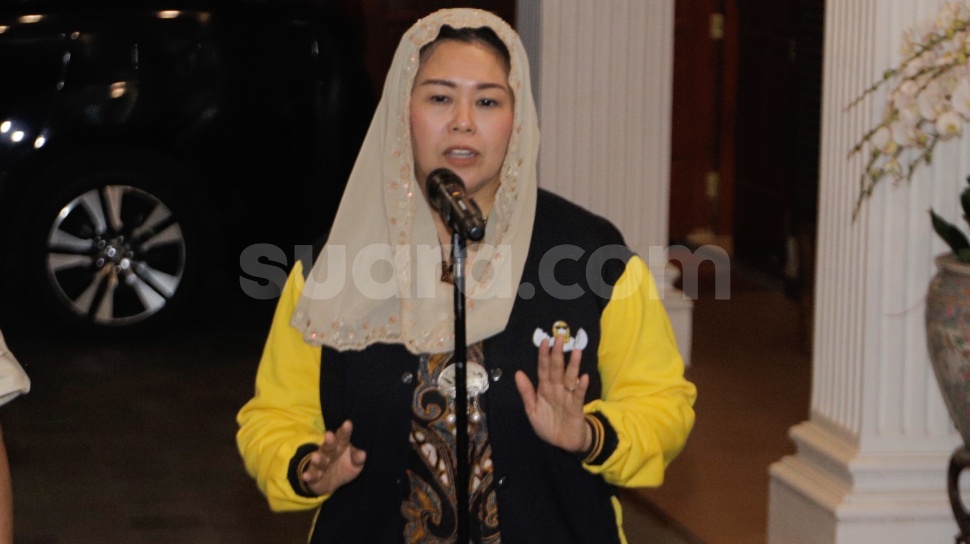 Suara.com – The daughter of the fourth President of the Republic of Indonesia (RI) KH Abdurrahman Wahid, Yenny Wahid, emphasized that she will announce the direction of her support for the presidential election next October.
This statement was made by Yenny Wahid at the national rally commemorating the birthday of KH Abdurrahman Wahid or Gus Dur along with hundreds of people at the Gus Dur Barricade (Gus Dur Cadre March) at the Unhasy (Hasyim Asyari University) Tebuireng Jombang field on Thursday (7/9/2023).
When he delivered his speech, the crowd greeted him with chants of 'Mbak Yenny Cawapres. Mbak Yenny Cawapres' simultaneously. Yenny also responded to the shouts from the crowd.
"Don't rush, don't panic, support and support. Wait until October, I will announce where we are going," he said as quoted by Times Indonesia-jaringan Suara.com.
Also read: Many NU Kiai are shouting about their support for Prabowo, PKB to Yenny Wahid: Don't get into a war of claims like that!
Yenny conveyed this when telling about two potential presidential candidates, namely, Prabowo Subianto and Ganjar Pranowo.
Apart from that, Yenny revealed Gus Dur's birthday, which is still a mystery.
Because there are two versions of the birth date of the former PBNU General Chair, namely 4 August 1940 and 7 September 1940.
Yenny then revealed the actual date, namely September 7 1940.
"My family used to use the Arabic calendar, namely the 4th and 8th day of the Islamic calendar in 1940," said Yenny in front of hundreds of Gus Dur's admirers.
Also read: Yenny Wahid suggests that Prabowo choose a young vice presidential candidate, Erick Thohir is considered the most ideal
He continued that in the Hijri calendar, Gus Dur was born on 4 Sha'ban 1359 Hijri and in the Gregorian calendar the same as 7 September 1940.
"But what was printed on the KTP was already wrong, namely 4 August 1940. No problem," he said.