Suara.com – Bali United coach Stefano Cugurra said he was improving the team's technical strategy to face the Philippines' representatives, Stallion Laguna FC, in the 2023/2024 AFC Cup away match because the opposing team is used to using fields with synthetic grass.
"We from Bali United have looked for information about them (Stallion Laguna FC), one of which is that they play on a synthetic pitch," said Bali United Head Coach Stefano Cugurra in Gianyar, Bali, Thursday (7/9/2023).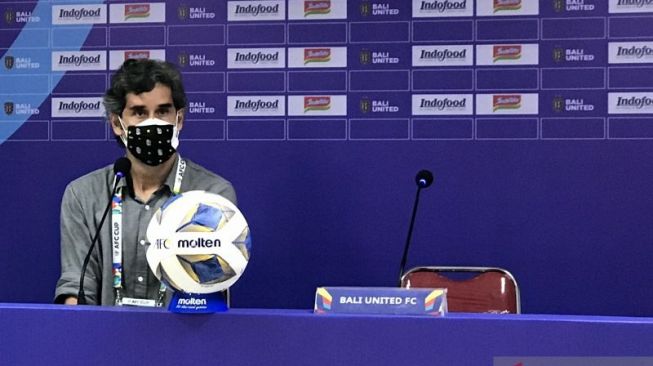 Bali United FC coach Stefano Cugurra alias Teco gives a statement to journalists at the Captain I Wayan Dipta Stadium, Gianyar, Bali, Monday (27/6/2022) after the match between Bali United and Visakha FC in the preliminary round of Group G of the 2022 AFC Cup. ANTARA/ Genta Tenri Mawangi
The club with the nickname Serdadu Tridatu is trying to adapt to the conditions of the field with artificial grass at the Binan Stadium because so far Bali United has played on a field with real grass.
So that the two conditions became a difference and a challenge in the inaugural match of Serdadu Tridatu against the home team in the Philippines.
Also Read: After the Holidays, Bali United Completed Physical and Tactics Training to Face Rans Nusantara FC
The Brazilian coach and his coaching staff began looking for additional information regarding their potential first opponents in this season's AFC Cup amidst a busy competition schedule.
The AFC Cup competition will be Bali United's fourth event and Stallion Laguna will be their first.
According to schedule, Bali United will be the guest of the Stallion Laguna FC club at the Binan Stadium located in Laguna Province, Philippines on September 20 2023 at 16.00 local time in the first match of the 2023/2024 AFC Cup group G phase.
Meanwhile, currently Bali United is intensifying physical training ahead of the adjacent match, namely against Rans Nusantara at the Captain I Wayan Dipta Stadium, Gianyar Regency, Friday (15/9).
They practice every afternoon at the Bali United Training Center in Pantai Purnama, Gianyar Regency, Bali.
Also Read: These 3 Participating Countries for the 2023 U-17 World Cup Choose to Practice at the Bali United Training Center
Apart from physical, technical and tactical training is also prepared by the coaching team to face the Indonesian League 1 competition and the second caste competition in Asia, the AFC Cup.
In domestic competition, Bali United is currently in 8th place in the Indonesian League 1 standings with 17 points from 11 matches.
The result was obtained after five wins, two draws and four defeats received by Elias Dolah and friends.
"We have to be able to play well, also when playing away games. This is so we can get more points in League 1 and also the AFC Cup," he concluded, as published by ANTARA.