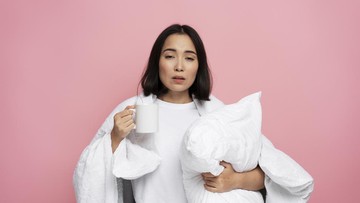 Newsdelivers.com –
Bad morning habits can affect your condition throughout the day, you know. If this habit is not eliminated, your mood can change and you will become unhappy throughout the day.
Changes in mood or mood can ultimately also affect activities. Productivity can drop and relationships with other people or colleagues can suffer.
Time in the morning is very important to start the day well. If you start the morning well, then you might be happy all day.
ADVERTISEMENT
SCROLL TO RESUME CONTENT
"Many of us think of the morning as a 'fresh start' and an opportunity to plan our day in advance," said psychologist Emily Guarnotta, reported by the Martha Stewart page.
If you don't want your mood to change for the worse, you can start changing your bad morning habits. But before you do that, make sure you know the list of morning habits that can make you unhappy all day. Anything?
Morning habits that make you unhappy
Here are 8 morning habits that can make you unhappy all day:
1. Drink coffee straight away
Coffee is not a breakfast menu that is recommended to be enjoyed first thing in the morning. Drinking coffee in the morning will make you feel tired all day.
Please note that the body naturally produces the hormone cortisol which regulates energy between 8-9 in the morning. Drinking coffee before that hour can make Mother nervous and always alert. Then, the management of cortisol will be disrupted so that the amount of cortisol drops dramatically in the afternoon.
2. Pressing the 'snooze' button
The existence of the 'snooze' button on the cellphone seems to be an extension of sleep time. Mothers can sleep 5 to 10 minutes longer, but this button is the beginning of an unhappy day.
Quoted from the Daily Mail, if we hit the snooze button, then it's the same as we start a sleep cycle that can't be completed. As a result, the body will feel more tired later.
Besides these two habits, there are 6 other morning habits that can make Mother unhappy all day long. What are these habits?
CONTINUE READING HERE.
For mothers who want to share about parenting and get lots of giveaways, come join the HaiBunda Squad community. Register click HERE. Free!
(ank/fia)