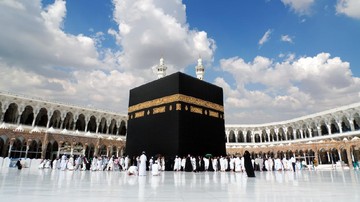 Newsdelivers.com –
The waiting period for the Hajj in Malaysia turns out to be longer than in Indonesia, Mother. At least, Hajj registrants in the neighboring country have to wait up to 149 years to be able to go on the Hajj.
Executive Director of Group Finance at Tabung Haji Malaysia, Mustakim Mohamad, said that the waiting period for the departure of Malaysian Hajj pilgrims as of August 30 2023 reached 149 years with an estimated departure year of 1594 AH/2169 AD. The number of pilgrims filling the waiting list reached 3,901,215 people.
Mustakim conveyed this when welcoming the comparative study of the Indonesian Ministry of Religion, the Financial Audit Agency (BPK RI) and the Hajj Financial Management Agency (BPKH) to the Tabung Haji Institution office, Jln Tun Razak, Kuala Lumpur, Kuala Lumpur Federal Territory, Malaysia, on Monday (4/ 9/23) ago.
ADVERTISEMENT
SCROLL TO RESUME CONTENT
According to Mustakim, Hajj registration in Malaysia can be done through Tabung Haji and can be done anytime and anywhere. This institution provides Hajj registration every day, Mother.
"In terms of Hajj registration, we have several Hajj registration channels. Now Hajj registration can be done anywhere 24 hours/7 days a week via the web, through Islamic banks, Tabung Haji (TH) counters, ATMs, online and even by telephone via the Tabung Haji Contact Center," said Mustakim, as reported by the Ministry of Religion's Hajj website, Wednesday (6/9/23).
The Hajj registration requirements are sufficient to be a Tabung Haji depositor with an initial deposit of at least 1,300 ringgit or around Rp4.2 million (Rp3,275 exchange rate) through their respective accounts. Depositors who register for Hajj are also required to never use the Hajj Fund.
According to information on the Tabung Haji Malaysia website, the official Haj quota for member countries of the Organization of the Islamic Conference (OIC), including Malaysia, was set in 1988 in Amman, Jordan. The Kingdom of Saudi Arabia sets the Hajj quota for each country at 0.1 percent of the population of the country sending the Hajj pilgrims. This means that the official Hajj quota from Malaysia is 31,600 people, based on current Malaysian population statistics.
"The quota for Malaysian Hajj pilgrims in 1444H/2023 is 32,600 people, including an additional 1,000 quota provided by the Saudi Arabian government," said Mustakim.
In contrast to Malaysia, the waiting period for going on the Hajj in Indonesia does not reach hundreds of years. Government estimates show that the waiting time for Hajj in Indonesia is between 11 and 47 years. So, the waiting time is based on the area where Father or Mother registers.
At the event held in Malaysia, BPK RI Auditor Ahmadi Nur Supit delivered a special agenda, namely a sharing session regarding the implementation of the Hajj pilgrimage and financial management of the Hajj as an object of benchmarking.
So what were the results of this sharing session?
CONTINUE READING HERE.
(ank/som)