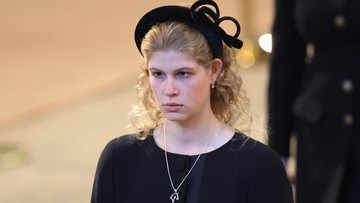 Newsdelivers.com, Insertlive –
Lady Louise Windsor is one of Queen Elizabeth II's granddaughters. He has been blessed with luxury since birth. However, Lady Louise admitted that she wanted to be able to live independently.
When she graduated from high school, the 19 year old girl decided to spend her summer vacation as a worker in a city park in England.
Quoted from the Daily Mail, Lady Louise is paid a nominal salary below the UK minimum wage (UMR), around IDR 117 thousand per hour. Meanwhile, the UMR in England itself is around IDR 120 thousand to IDR 160 thousand per hour.
ADVERTISEMENT
TAKE THE QUIZ
SCROLL TO RESUME CONTENT
Lady Louise's duties in the garden are considered menial work. He helps move pots, plant plants and greet customers. Suddenly, the daughter of Prince Edward and Sophie Wessex was flooded with praise.
"You would never imagine the Queen's granddaughter would take on the role behind the till," said a customer at the park.
"She is a very simple and sweet young woman who is polite and attentive to customers. She seems to love the job," praised another customer.
Even though she earns a salary below the minimum wage, it is possible that the girl born in 2003 could buy a car.
Lady Louise was seen driving a blue VW Polo in the Windsor Royal Estate area, last Sunday (3/9).
This used car, which was not the newest vehicle, was his first car. She looks beautiful with her hair tied in a ponytail and face without make-up.
Lady Louise could of course ask for a luxury European car, but she seemed proud to have bought one with her own efforts.
(Zalsabila Natasya/and)
Also watch the following video: