Newsdelivers.com –
After giving birth, not a few mothers immediately use contraception. So, what is the mainstay of birth control for lactation and let's find out the benefits, dosage, side effects, how to take it and know the signs if it's not suitable, Mother.
Breastfeeding actually reduces your chances of getting pregnant only if you exclusively breastfeed. And this method can only be relied on for six months after giving birth to the baby, as said by Stacy A. Heningsman, DO, quoted from the Healthline page.
To be successful, you should feed your baby at least every four hours during the day, every six hours at night, and not give him any supplements. This means that the baby does not eat anything other than breast milk.
ADVERTISEMENT
SCROLL TO RESUME CONTENT
Mainstay of Lactation Birth Control
You will ovulate first, and then if you are not pregnant, you will have your first period about two weeks later. You may not know whether you are ovulating, so there is a danger of getting pregnant while breastfeeding. This method is not effective if your menstruation has returned.
If you are worried about preventing pregnancy while breastfeeding, it would be a good idea for you to consult a doctor about your options. Mothers may want to avoid contraceptives that contain the hormone estrogen. Estrogen has been linked to decreased breast milk supply in breastfeeding mothers.
However, there are still many options available to prevent pregnancy and protect mothers from sexually transmitted infections (STIs). Mothers can try various mainstay birth control options for lactation, such as the following, and adapt them to your partner's needs:
1. IUD
The intrauterine device (IUD) is more than 99 percent effective, making it the most effective contraceptive on the market. The IUD is a form of long-term reversible contraception. There are two types of IUDs available, hormonal and non-hormonal. Both are only available with a doctor's prescription.
Hormonal IUDs contain progestin, which is a synthetic form of the hormone progesterone. The hormone thickens cervical mucus to prevent sperm from reaching the uterus. Hormonal IUDs can also make your periods lighter. Some women may stop having periods altogether.
You can install an IUD immediately after giving birth, but it's a good idea for you to ask your doctor whether this is the best option for you. Side effects include cramping after insertion, irregular or heavy bleeding, and spotting between menstrual periods.
These side effects usually subside within the first six months after installation. If you decide you want to get pregnant again, you can remove your IUD and start trying immediately.
2. Pil
This contraceptive method, which is the mainstay of lactation, is widely used by breastfeeding mothers. Pills are known to contain a mixture of the hormones estrogen and progestin. Some women experience reduced breast milk supply and as a result the duration of breastfeeding is shorter when using combination pills. It is thought that estrogen may be the cause of this.
If you want to use oral contraception, the mini pill could be an option. This pill only contains progestin so it is considered safer for breastfeeding mothers. These pills are usually only available with a doctor's prescription.
Because each pill in a pack of 28 pills contains progestin, it is very likely that you will not experience monthly menstruation. You may experience spotting or irregular bleeding as your body adjusts.
Like many other contraceptives that contain progestin, you can start taking the minipill between six and eight weeks after you give birth. It is between 87 and 99.7 percent effective in preventing pregnancy.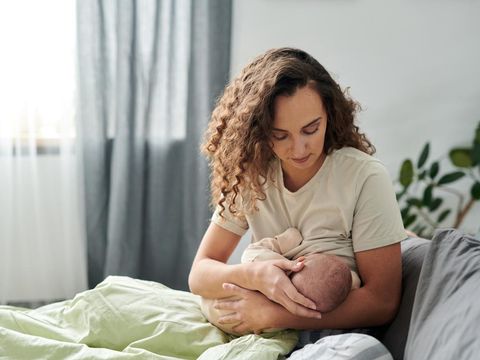 Breastfeeding Illustration/ Photo: Getty Images/iStockphoto/shironosov
3. Condoms
Birth control devices with a barrier method can prevent sperm from entering the uterus and fertilizing an egg. Condoms work by blocking sperm from entering the vagina. If used 'perfectly', condoms are about 98 percent effective. This means using a condom every time, from start to finish. In other words, there is no genital contact before the condom is put on. Perfect use also assumes the condom does not break or come off during intercourse.
4. Injectable birth control for 3 months
This injection is a long-lasting form of contraception. It uses the hormone progestin to prevent pregnancy. This injection provides protection for three months, so if you don't keep your quarterly follow-up appointment, you won't be protected.
The injection is about 97 percent effective. Women who received their injections on time every 12 weeks had higher efficacy rates than women who missed their injections or went off schedule.
Side effects include stomach aches, headaches and weight gain. Some women also experience loss of bone density when using this contraceptive method.
5. KB is sterile
If you don't want to have any more children, sterilization may be a good option for you. Female sterilization is known as tubectomy. This is a permanent form of contraception in which the fallopian tubes are cut or blocked to prevent pregnancy.
Tubal ligation does not affect your menstrual cycle. Some women choose to complete this procedure after vaginal delivery or during a cesarean section. The risks of this procedure are the same as those of other major abdominal surgery, including reaction to anesthesia, infection, and pelvic or abdominal pain.
Yes, choosing a birth control method that you can rely on for lactation can often make you confused, Mother. In order to know better which one is suitable and also the pluses and minuses, it would be a good idea for you to consult a doctor before making a choice.
Then, for mothers who are already undergoing birth control, also pay attention to the signs if the birth control method used is not suitable, Mother. For example, if you feel unnatural vaginal discharge when using injectable birth control, you can consult a doctor further.
Or, if you experience any side effects, such as headaches, nausea, irritability and mood swings, breast tenderness, or abnormal spotting or heavy bleeding, talk to your doctor about contraceptive options. These side effects are common and can usually be treated by a doctor, as quoted from the Greatcitymedical page.
And, if you think that the birth control method you are currently using is not suitable and causes side effects that cause discomfort, you can try other methods by first getting directions from a doctor. Mothers can try various other birth control methods, both hormonal and non-hormonal.
Hopefully the information helps, Mother.
For mothers who want to share about parenting and get lots of giveaways, come join the HaiBunda Squad community. Register click HERE. Free!
(pri/pri)