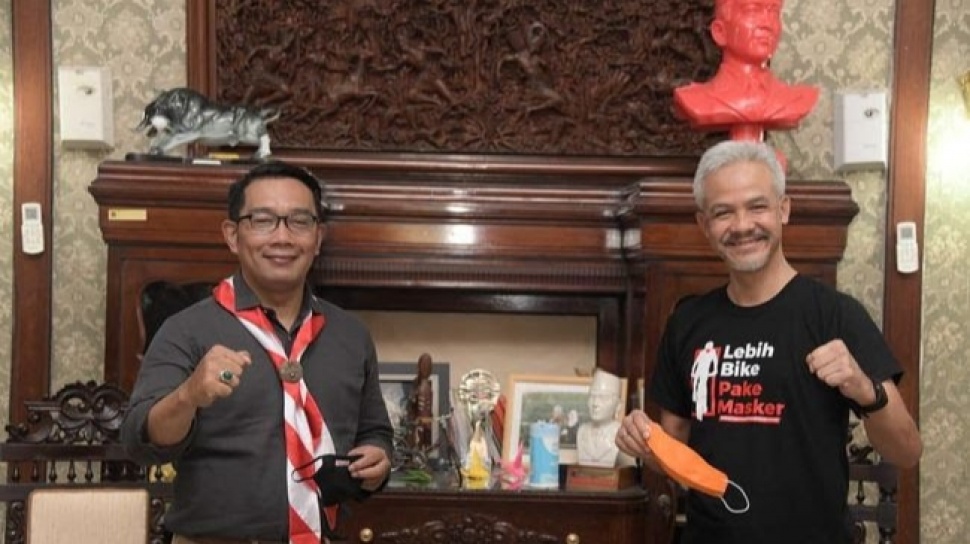 Suara.com – The term of office of nine governors officially ends on Tuesday (5/9/2023) today. To fill the vacancies until 2024, the central government, through the Minister of Home Affairs Tito Karnavian, has appointed a number of officials (Pj).
The governors' terms of office officially expired today include West Java Governor Ridwan Kamil, Central Java Governor Ganjar Pranowo, Bali Governor I Wayan Koster, and North Sumatra Governor Edy Rahmayadi.
Then, there are the Governor of West Kalimantan Sutarmidji, the Governor of Southeast Sulawesi Ali Mazi, the Governor of East Nusa Tenggara (NTT) Viktor Laiskodat, the Governor of South Sulawesi Andi Sudirman Sulaiman, and the Governor of Papua Lukas Enembe.
Lukas Enembe himself has been the inactive governor of Papua since he was named a suspect and arrested by the Corruption Eradication Commission (KPK) in January 2023. His position was replaced by Papua Regional Secretary Ridwan Rudalamun.
Also Read: Ganjar-Yasin Retires from Duty, Tears of Emotion Thousands of People Mark Farewell at Jatidiri GOR
The decision regarding Ridwan as a temporary replacement was taken because Papua does not have a deputy governor. This position has been vacant for two years, after Klemen Tinal died in mid-2021.
Meanwhile, Ridwan Kamil now has the status of a Golkar Party cadre. In early August 2023, the man who is familiarly called Kang Emil plans to travel around the world after stepping down from his position as Governor of West Java.
Then, two names, namely Ganjar Pranowo and I Wayan Koster, are PDIP cadres. Ganjar himself has now been appointed as a presidential candidate (capres) from the Red Bull party. Meanwhile, Koster stated that he would rest first.
Koster did this in his hometown in Sembiran Village, Buleleng Regency, Bali. After taking a break from his duties, he will return to focus on managing the 2024 legislative election (Pileg) and presidential election (Pilpres).
Next, there are Ali Mazi and Viktor Laiskodat who are currently active as NasDem Party cadres. Both of them decided to run as legislative candidates (candidates) representing the party chaired by Surya Paloh in the upcoming 2024 elections.
Also read: Ganjar gets support from people with disabilities, Basarah PDIP: Shows they are politically literate
Then, Edy Rahmayadi plans to run again for the 2024 North Sumatra gubernatorial election. Meanwhile, it is not yet known what the next steps will be for the other governors who stepped down today. It is not known what they will choose after no longer being governor.
On the other hand, those who step down will be replaced by an acting governor. These replacements were determined through a final assessment team (TPA) session led by President Joko Widodo (Jokowi), last Thursday (31/8/2023). This is in accordance with the mandate of the Regional Election Law.
The figure appointed as Acting Governor must at least have the status of a middle-ranking high ranking official or equivalent to echelon I. Meanwhile, Acting Regents and Mayors are required to come from high ranking pratama officials or equivalent to echelon II.
Appointed Acting Governor
There were nine acting governors who were appointed by Tito at the Ministry of Home Affairs Office, Newsdelivers.com, today. Those who will temporarily lead the province from Bey Machmudi, Nana Sudjana, to Ayodhia Kalake. Here's the list.
1. Acting Governor of West Java: Bey Machmudin
2. Acting Governor of Central Java: Nana Sudjana
3. Acting Governor of South Sulawesi: Bachtiar Baharuddin
4. Acting Governor of North Sumatra: Hasanudin
5. Acting Governor of Bali: Sang Made Mahendra Jaya
6. Acting Governor of Papua: Ridwan Rudalamun
7. Acting Governor of West Kalimantan: Harrison Azroi
8. Acting Governor of Southeast Sulawesi: Andap Budhi
9. Pj. Governor NTT: Ayodhya Kalake
The general elections for regional heads (pilkada) for governor and deputy governor, regent and deputy regent, as well as mayor and deputy mayor will be held after the president and members of the legislature. To be precise, November 27 2024.
Contributor: Xandra Junia Indriasti