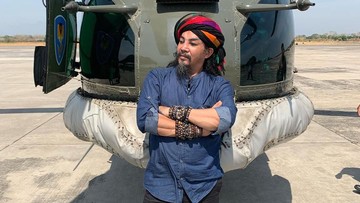 Newsdelivers.com, Insertlive –
Limbad failed to perform the fire-breathing stunt and ended up burning his beard. He also suffered burns and had to undergo surgery.
Limbad's beard caught fire while performing a firefighting attraction at Reksogati Square, Caruban, Madiun Regency, Saturday (3/9) evening. The magician named Salim Babad was immediately taken to hospital.
Director of Caruban Regional Hospital, Drg Farid Amirudin, said that Limbad's burns when he arrived at the hospital had reached 8 percent. Then, Limbad was referred for better treatment at Dr Soedono Madiun Regional Hospital. There, Limbad's burns fell to 4 percent. He immediately underwent surgery.
ADVERTISEMENT
SCROLL TO RESUME CONTENT
"Actually, the burns weren't that big, but because it was on the face, we were worried that there would be swelling in the throat. We were worried that there would be internal injuries," said Farid, explaining the reason Limbad had to have surgery, Sunday (3/9) as reported by detikJatim.
Farid also explained Limbad's current condition. According to him, Limbad's condition has improved after surgery.
"There were no problems until last night. I accompanied him to Soedono, we can still communicate with him," continued Farid.
Not only that, currently Limbad is still in the recovery stage. The team of doctors is still monitoring Limbad's condition.
"Recovery involves treatment, the burn wound is immediately cleaned, the aim is to quickly create new tissue," he concluded.
It is known that the fire-breathing attraction performed by magician Salim Babad or who is often called Limbad ended in disaster. The fire that was ejected consumed part of Limbad's beard.
This incident went viral via messages on WhatsApp. In the video, one of Limbad's assistants is initially seen holding a torch. A moment later, Limbad sprayed gasoline on the fire.
However, when it burst out, the fire suddenly grabbed the beard of a man who was famous after participating in a talent search event for magicians on one of these television stations. Beard fires are inevitable.
Next, Limbad looked panicked. He immediately tried to extinguish the fire that was burning his beard. Several times his hand pulled at the beard which was being engulfed in flames.
It is suspected that there was still petrol remaining in his mouth, and the fire grew. Limbad continues to try to extinguish the fire. A number of spectators also looked tense.
In the video, fire can be seen burning Limbad's face. However, he seemed to remain standing firmly. Several times, Limbad shook his hair until the fire slowly went out.
(yeah/yeah)
Also watch the following video: