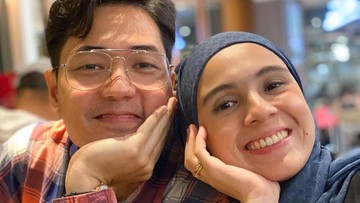 Newsdelivers.com, Insertlive –
Nycta Gina tells of the moment when she and her husband, Rizky Kinos, were still dating. At that time Nycta Gina became Rizky Kinos' mistress. The reason is, Kinos already had a girlfriend before having a romantic relationship with Nycta Gina.
"At that time I thought this girl of mine would be really difficult to get married to. Because I've been dating her for a long time, it's not bad. I've given her everything, I've given her everything, I've given her the car, I've paid for her school. I've asked her to marry me for a reason," he said. Rizky Kinos on Denny Sumargo's podcast.
"Yeah (there's no direction to marriage), I think I'm being put in the spotlight, right? Well, that's enough, you're putting me in the spotlight, I'm just happy with you," he continued.
ADVERTISEMENT
SCROLL TO RESUME CONTENT
Suddenly, Denny Sumargo felt confused because Nycta Gina seemed to have resigned herself to being used as an affair by Rizky Kinos. Nycta Gina admitted that she also didn't know why she wanted to be an affair at that time. Moreover, in Nycta Gina's eyes there is nothing special about Rizky Kinos.
"If a Playboy guy is good at playing with words, or can treat girls like that, yes. When I was dating or even being an affair with him (Rizky Kinos), there was nothing strange about him. It was like there was nothing special, " said Nycta Gina.
"Then why do you like it?" asked Denny Sumargo.
"Well, I'm confused too," said Nycta Gina.
Denny Sumargo also joked that he suspected Rizky Kinos of using black magic to attract Nycta Gina's heart.
"You used it (witchcraft), you used it already. Ustaz Faisal is empty or not?," joked Denny Sumargo.
Denny Sumargo's emotions also surfaced when Nycta Gina called Rizky Kinos selfish because he kept defending himself even though he didn't let go of his girlfriend.
"I said many times, 'well, if you feel like your relationship with your current boyfriend is not clear, then you should end it, why are you keeping it'. He always answered 'I can't'," said Nycta Gina.
Nycta Gina did not deny that she was devastated because Kinos kept her boyfriend.
"Isn't that right? Just imagine being a woman, (the guy you like says) 'I can't let go of him either'," said Nycta Gina.
Kinos also explained that at that time he couldn't let go of his girlfriend even though he was with Nycta Gina.
"The problem is, maybe I haven't found a reason for him (boyfriend) to say 'ah, you don't want to be serious'," explained Kinos.
(cpr/fik)
Also watch the following video: