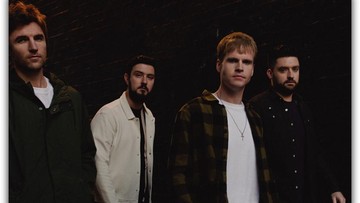 Newsdelivers.com, Insertlive –
Moving On is one of the songs on the Kodaline album which was released in 2015.
This song tells the story of a man who meets his ex-girlfriend and wants to turn back time. However, at that time the woman was married.
Check out the lyrics below.
ADVERTISEMENT
SCROLL TO RESUME CONTENT
I met you on the corner of the street
I smiled before I even heard you speak
I can't accept we're growing older but I guess that's just the way it has to be
I wondered how you still remembered me
I heard you settled down and that you married happily
Oh, do you remember when I told you that I loved you to the bottom of the sea?
Yeah I know, I know it's over but I guess that's just the way it has to be
Sometime in the future maybe we can get together, maybe share a drink and talk awhile
And reminisce about the days when we were still together
Maybe someday further down the line
And I will meet you there
Sometime in the future we can share our stories
When we won't care about all of our mistakes, our failures, and our glories
But until that day comes along I'll keep on moving on
I'll keep on moving on
It's funny how but it still bothers me
I know it's been so long but I did not expect to see oh how beautiful you are
I guess that all that time apart has done you well
But hey I wish you all the best and maybe someday we might even meet again
Yes sometime in the future maybe we can get together, maybe share a drink and talk awhile
And reminisce about the days when we were still together
Maybe someday further down the line
And I will meet you there
Sometime in the future we can share our stories
When we won't care about all of our mistakes, our failures, and our glories
But until that day comes along
Until that day comes along
Until that day comes along
I'll keep on moving on
I'll keep on moving on
I'll keep on moving on
(day/day)
Also watch the following video: