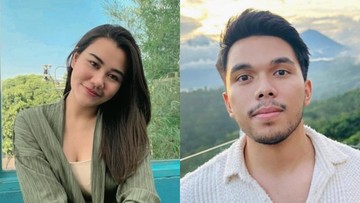 Newsdelivers.com, Insertlive –
Recently, the names Aaliyah Massaid and Tariq Halilintar became the topic of conversation among netizens. This happened because the two of them were rumored to be dating after being caught together several times.
The news of the romance became increasingly popular after Aaliyah and Tariq were seen attending Al Ghazali's birthday celebration in the early hours of Friday (1/9).
Not only that, Aaliyah Massaid was accompanied by Tariq Halilintar at the legendary fighting event. The two of them were even caught going home in the same car.
ADVERTISEMENT
SCROLL TO RESUME CONTENT
As if he didn't want the news to spread like a wild ball, Tariq Halilintar finally opened his voice. He did not confirm that he and Aaliyah were dating.
"Friend," said Tariq Halilintar in a video circulating on YouTube.
Apart from that, Tariq also admitted that he had known Aaliyah Massaid for a long time. So it's not surprising that the two of them are now very close.
"I've known him for a long time, a long time," he added.
Tariq also said that Aaliyah Massaid was a good friend.
"Okay," he said.
On the other hand, Tariq revealed the figure of his dream woman who he wants to be his life partner. He wants to have someone he can talk to and listen to his complaints in the midst of his busy work life.
"I want a girl who can chat, when I have a busy schedule I want to be able to listen to each other," he concluded.
(day/day)
Also watch the following video: