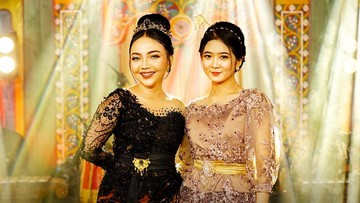 Newsdelivers.com, Insertlive –
Rasah Nyangkem 3 is popular on the TikTok page after being sung by Syahiba Saufa and Ochi Albira.
This song by Pakdhe Dez tells the story of a friend who was asked to keep quiet because he always felt jealous of other people's success.
Here is the translation of the lyrics of the song Rasah Nyangkem 3.
ADVERTISEMENT
SCROLL TO RESUME CONTENT
You better keep quiet
Try not to talk
It's fun to hang out with Satan's friends
How dare you be behind if you are not brave in front?
Likes to find mistakes like a soccer referee
The bottom of your brain is full of wastewater
When your friend is having a hard time, you will definitely be cheerful
When your friends are happy you will definitely be noisy
You better keep quiet
Try not to talk
Your style is elite, self-introspection is difficult
Your lips are so tight, I feel like I want to sew them up
You don't like to pinch, if you don't want to be pinched
Once I pinch you, you will scream
Seeing your friend in trouble will definitely make you happy
Seeing your friends happy makes you talk a lot
You better keep quiet
Try not to talk
He said goodbye to coffee, ordered iced tea
So, people who are respected should not feel like they can do it
Eat chicken head pecel as a side dish
Don't feel tired of being a good person
It's fun to hang out with Satan's friends
How dare you be behind if you are not brave in front?
Likes to find mistakes like a soccer referee
The bottom of your brain is full of wastewater
Your style is elite, self-introspection is difficult
Your lips are so tight, I feel like I want to sew them up
You don't like to pinch, if you don't want to be pinched
Once I pinch you, you will scream
When your friend is having a hard time, you will definitely be cheerful
When your friends are happy you will definitely be noisy
You better keep quiet
Try not to talk
Seeing your friend in trouble will definitely make you happy
Seeing your friends happy makes you talk a lot
You better keep quiet
Try not to talk
He said goodbye to coffee, ordered iced tea
So, people who are respected should not feel like they can do it
Eat chicken head pecel as a side dish
Don't feel tired of being a good person
(poor/poor)
Also watch the following video: