When lightning starts to show its presence, maybe you will take shelter indoors to be safe. However, there are a number of activities that need to be avoided even if you are indoors, you know. The presence of lightning can indeed hurt you in unexpected ways.
Most people are familiar with basic safety protocols during a thunderstorm, such as not using landlines, keeping away from trees or windows, and so on.
However, did you know that bathing during a thunderstorm is actually dangerous? Come on, see the information regarding the prohibition on bathing during a thunderstorm below, reported by Health.
What Happens During a Thunderstorm?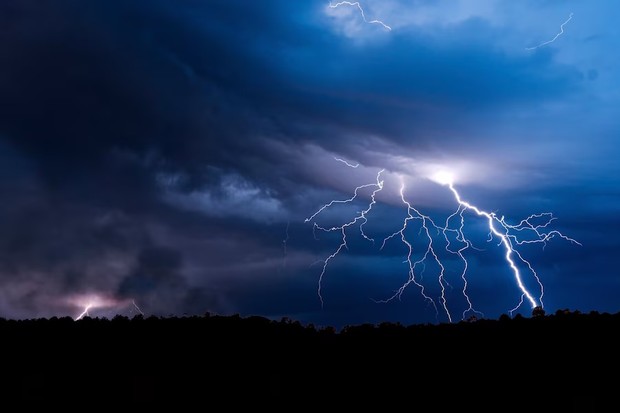 What happens during a thunderstorm/ Photo: Freepik
Lightning is basically a giant electrical spark in the atmosphere between clouds, air, or the ground. Most lightning flashes resulting from thunderstorms begin within the clouds. When it hits the ground, energy channels develop downward towards the earth's surface.
When the lightning reaches about a hundred yards from the ground, objects such as trees, bushes, and buildings begin to send out (invisible) energy sparks to meet it. When one of these energy sparks connects with a downward expanding channel, a huge electric current surges rapidly down the channel and you get a ground wave.
How Can Lightning Strike a Person?
How can lightning strike a person?/ Photo: Pexels/Nick Kwan
Lightning can strike a person in several ways. The following are some of them.
Direct strike (when directly struck by lightning, often fatal).
Contact injuries (when lightning hits something you touch). Ground current (when lightning strikes the ground, and ground current flows from the point of impact, through the ground, and hits you).
About 10 percent of people struck by lightning die, usually from heart attacks. You can also suffer serious injuries, such as blunt trauma, nerve syndrome, muscle injuries, eye injuries, skin lesions, and burns.
Is It Safe to Shower During a Thunderstorm?
Is it safe to shower during a thunderstorm?/ Photo: Freepik
The United States Center for Disease Prevention and Control (CDC) does not recommend that you shower or do any activities involving water during a thunderstorm. "Lightning can travel through plumbing pipes. It is best to avoid all water during a thunderstorm. Don't shower, wash dishes, or even wash your hands," said the CDC, citing CNN.
"The risk of lightning traveling through plumbing pipes may be less with plastic pipes than with metal pipes," the CDC added. "However, it is best to avoid contact with plumbing pipes and running water during a thunderstorm to reduce the risk of being struck."
Reporting from Health, lightning expert Mary Ann Cooper, MD, professor emeritus from the college of medicine at the University of Illinois said that water can also carry electric current from lightning.
Deadly Lightning Strike Effects
Efek sambaran petir/ Photo: Pexels/Maksim Romashkin
Lightning strikes pose a risk of death from electric shock. The effects on the body may vary according to the type and severity. Here are the consequences.
Skin rash (erythema). Burns. Severe muscle contractions. Nervous system injury. Severe multiorgan injury. Cardiovascular effects, such as cardiopulmonary arrest.
Most lightning-related deaths are caused by cardiovascular effects.
What Precautions Should Be Taken?
What precautions should you take?/ Photo: Freepik/@jcomp
If you hear thunder in the distance, don't rush to take a shower. Injuries from showering during a thunderstorm are not something that happens often, but they are not impossible. You should even avoid washing your hands or dishes during a thunderstorm.
If you really have to clean yourself, it's best to clean yourself with a towel or a splash of water from a bottle first. Experts generally recommend waiting 30 minutes after you last hear thunder before showering or bathing, just to be safe.
So, now you know about the risks of showering during a thunderstorm, right? Therefore, Beauties have to keep looking for safety, OK?
***
Want to be one of the readers who can take part in various exciting events at Beautynesia? Come join the Beautynesia reader community, B-Nation. How to REGISTER HERE!
(sound/sound)