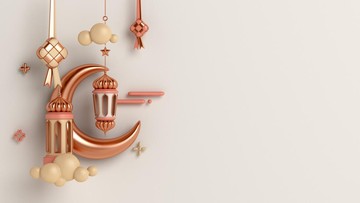 Newsdelivers.com, Insertlive –
Muslims have their own way of greeting their fellow believers, or when starting a conversation in large or small forums.
Saying Assalamualaikum is a form of respect, greeting and praying for fellow Muslims. This word is also said as a sign that you are a believer.
The meaning of Assalamualaikum is also a prayer for goodness or safety for other Muslims. Therefore, as Muslims, it is appropriate to greet your fellow believers with beautiful sentences and have good prayers in them.
ADVERTISEMENT
SCROLL TO RESUME CONTENT
However, many times the speech of Assalamualaikum often suffers from mistakes in pronunciation and writing. It is not uncommon for some to shorten it and make the meaning change.
So that you no longer make mistakes and change the meaning, let's look at the following information.
Meaning of Assalamualaikum
Assalamualaikum (in Arabic: ٱلسَّلَامُ عَلَيْكُمْ) means 'May peace be upon you'. Meanwhile, if connected to Assalamualaikum warahmatullahi wabarakatuh (in Arabic writing: ٱلسَّلَامُ عَلَيْكُمْ وَرَحْمَةُ ٱللَّٰهِ وَبَرَكَاتُهُ) This greeting not only has a beautiful meaning but is also good. Because, there is enthusiasm and prayer in that sentence.
A Muslim usually says this greeting when meeting or greeting, or starting a conversation. Of course, this greeting is highly recommended because it has a good meaning, namely as a prayer for safety for fellow Muslims. The Prophet himself always encouraged Muslims to greet each other. In fact, giving greetings is one of the good practices that is easy to do.
The prayer embedded in Assalamualaikum is not a small thing, namely safety which is important for Muslim life. This means that this greeting is not just for small talk, but a sincere greeting with prayer.
This is stated in the hadith narrated by Bukhari and Muslim in this hadith, Ibn Umar asked the Messenger of Allah about the best practice of Islam and the Messenger of Allah answered thus.
You provide food and greet those you know and those you do not know.
Meaning: "Giving food, saying hello to people you know and those you don't know."
Assalamualaikum's writing is correct in Islam
There are three greetings that can be used when greeting or starting a conversation, one of which is Assalamualaikum. Unfortunately, the writing of this word is often wrong, below is the Arabic and Latin writing and its correct meaning in Islam.
1. Short greeting Assalamu'alaikum
Hello
Meaning: "May safety be abundant for you."
2. Greetings with the phrase Assalamu'alaikum warahmatullahi
Peace and mercy of God
Meaning: "May Allah bestow His safety and mercy on you."
Greetings in full Assalamu'alaikum warahmatullahi wabarakatuh
May the peace, blessings, and mercy of God be upon you
Meaning: "May Allah bestow safety, mercy and blessings on you."
Etiquette of Saying Assalamualaikum in Islam
The correct etiquette for saying Assalamualaikum in Islam is as follows.
1. Start greeting when you meet
When meeting a relative, a Muslim should say hello first. This is in accordance with the words of the Prophet SAW, "When a person meets his fellow Muslim brother, he should say: Assalaamu'alaikum warrahmatullaah (may the safety and mercy of God be upon you)," (HR Ahmad).
2. Spreading Greetings
A Muslim who always spreads greetings will surely be admitted to heaven and gain salvation in this world and the hereafter. The Prophet SAW said,
"Spread greetings, give food, connect the bonds of friendship, pray at night when people sleep and enter heaven safely," (HR Ahmad).
3. Not Starting Greetings to the People of the Book and the Polytheists
The next etiquette is not to say hello to non-Muslims. Even though it is for reasons of respect, this is not permitted in Islam.
4. Say hello when entering and leaving the Assembly
The assembly in question is the assembly of knowledge. The recommendation to say salam when entering and leaving the assembly is in accordance with the words of the Prophet SAW which reads, "If one of you comes to the assembly, he should say salam. Similarly, if he wants to get up, he should say salam. The first salam is more important than the second salam." last," (HR Ahmad, Abu Daud, and Tirmidhi).
5. Not Saying Greetings when Disposing of Wishes
Another etiquette in greeting is not to defecate. It is also not allowed to answer greetings when defecating. In a hadith narrated by a man, he once greeted the Prophet SAW when he was defecating. The Prophet did not answer the greeting and said, "I do not like to mention the name of Allah except in a pure state,"
6. Lower your voice when saying hello when visiting people who are asleep
Once, the Messenger of Allah came at night and said hello in a low voice. Therefore, people who are awake can hear his voice but it does not disturb people who are asleep.
7. Saying Greetings 3 Times If Not Heard
If our greeting is not heard, then repeat it up to 3 times. Especially if the person being greeted is far away from us.
Rules for Answering Assalamualaikum to Non-Muslims
Quoting from the Detik page, the law of returning greetings to Muslims is fardhu 'ain for a person who is alone. That is, if a Muslim is alone and is greeted by another Muslim, then he must return the person's greeting. However, if there is more than one person who responds to the greeting, the ruling becomes fardhu kifayah. As explained by Imam Nawawi in the book Al-Adzkar: Prayer and Dhikr in the Qur'an and Sunnah, a scholar Imam Al-Mutawalli said,
"When a group of people greet someone and then he replies, 'Wa'alaikumussalam,' with the aim of answering the greetings of all of them, then the obligation to respond to the greeting has been waived, just as when performing funeral prayer once with the intention of praying for the whole body, then he has waived the obligation of funeral prayer on all Muslims."
Meanwhile, returning greetings to non-Muslims is also allowed. In the book Practical Modern Fiqh by Dr. Fahad Salim Bahammam, Islam enjoins its people to respond to greetings delivered by a non-Muslim. This is according to the words of Allah SWT in the Qur'an, chapter An-Nisa verse 86:
And when you are greeted with a greeting, greet with a better one or return it. Indeed, Allah is ever the Accountant of all things.
Meaning: "When you are honored with an honor (greeting), return the honor with something better than it or reciprocate with something similar. Verily, Allah is All-Aware of all things." (QS An-Nisa: 86).
However, the way to answer greetings to Muslims and non-Muslims is different. This is how to reply if you want to reply Assalamualaikum from a non-Muslim. The way to return greetings to non-Muslims is to simply say "wa'alaikum" even if they say greetings by saying "assalamu'alaikum".
This is as in the hadith narrated from Anas that the companions of the Prophet SAW once asked him, 'Indeed the People of the Book greet us, how do we respond?' The Prophet SAW replied, just answer with 'Wa'alaikum'." (HR Muslim, no. 4025).
This was also conveyed by Ustadz Khalid Basalamah, on the YouTube channel Curhat Bang Denny Sumargo. He answered when Denny Sumargo asked this, as a result of his anxiety when he read comments on his YouTube which said "it is not permissible to answer greetings from non-Muslims" and in a straightforward manner, Ustadz Khalid Basalamah answered, "you are allowed to reply to greetings because it is "Prayers are good, but just answering 'wa'alaikum' is enough."
That is the Arabic, Latin writing of the word Assalamualaikum which is correct in Islam. It is also equipped with manners and how to answer when a non-Muslim says it. With this information, hopefully we will not be mistaken again in writing or saying it.
(Risdawati/KHS)
Also watch the following video: