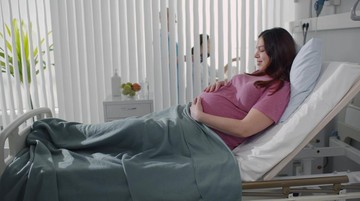 Newsdelivers.com –
Childbirth is certainly something stressful for every mother. Undergoing a normal birth or caesarean section, both still require excellent physical and mental preparation.
Caesarean section usually requires more mental preparation because the mother has to go through the operation process. Entering a fairly unfamiliar room while semi-conscious can certainly be quite scary.
Not to mention, the post-operative recovery that you have to go through will definitely be a burden on your mind before giving birth. If you experience this, you don't really need to worry because it is normal.
ADVERTISEMENT
SCROLL TO RESUME CONTENT
How to mentally prepare to undergo a caesarean section
Launching from Northshore, here HaiBunda presents several ways to mentally prepare mothers who will undergo a caesarean delivery.
1. Ask a lot of questions
Mothers who are about to undergo a cesarean delivery, especially those who are experiencing it for the first time, definitely have a lot of questions and concerns. This is a very common thing to experience. If you feel this way, the only way to relieve your fears and worries is to ask lots of questions.
You can ask the doctor or people closest to you who are more experienced about things you want to know or are worried about. Asking lots of questions will certainly make you find lots of answers and can ease your worries.
Don't let Mom keep all the questions and worries that you feel alone because this could have a bad impact on your little one in the womb. Apart from having an impact on your little one, excessive worry before the operation process can also affect the course of the operation process and the post-operative recovery process.
2. Avoid listening to negative stories
The birth process, whether normal or caesarean, is certainly different for each person. There are mothers who go through it smoothly and there are also those who go through difficult times either before, during or after giving birth.
If before your cesarean delivery you are worried and afraid, it would be a good idea for you not to listen to many negative stories from those who have already had a cesarean delivery. As much as possible, avoid people who share their bad experiences during cesarean births.
This is because listening to negative stories has no benefit at all for mothers. It could be that this will only increase the mother's fear and worry ahead of a cesarean delivery.
Mothers should listen to lots of stories and positive affirmations from those who have previously undergone cesarean delivery. Listening to lots of positive affirmations will make you calmer and more confident about facing a cesarean delivery.
3. Be clear about the various post-operative possibilities
Apart from worries before and during surgery, post-operative conditions are also a concern for mothers. If you experience this, it would be a good idea for you to consult a gynecologist about various possibilities that could occur after surgery.
Post-operative recovery is usually quite a difficult challenge for mothers. This is because after the effect of the anesthetic wears off, you will usually feel quite severe pain in the suture area.
If you are worried about this, it would be a good idea for you to ask your doctor about what to do during the recovery period. Also ask what needs to be done or needed during the post-operative recovery process. This is important to relieve Mother's worry.
Apart from the 3 things above, it turns out that there are also other ways that mothers can do to prepare themselves mentally before undergoing a cesarean delivery. Come on, see in more detail on the next page, Mother.
For mothers who want to share about parenting and get lots of giveaways, come join the HaiBunda Squad community. Register click HERE. Free!