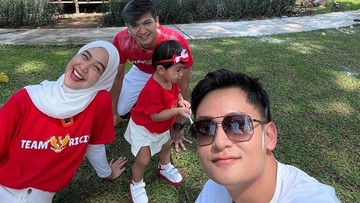 Newsdelivers.com, Insertlive –
Rarely seen in soap operas, it turns out actor Randy Martin is focusing on his education.
The man born in 1998 reportedly just completed his undergraduate education at the Kwik Kian Gie School of Business.
Through his personal Instagram account, Randy Martin is seen having just carried out his thesis trial.
ADVERTISEMENT
SCROLL TO RESUME CONTENT
This trial moment was also warmly welcomed by his friends. In fact, a number of his friends, including YouTuber Ria Ricis, were seen attending the moment.
Ria Ricis also seemed to be encouraging her friend through social media.
Moana's mother uploaded an Instagram story showing Randy Martin's moment during his thesis trial.
"Good job bro!!" wrote Ria Ricis in the description of her story, not forgetting that she also embedded Randy Martin's Instagram account.
Randy Martin also did not forget to express his gratitude for being able to complete his studies with satisfactory results.
"Being able to divide yourself in the morning to be an art worker, in the afternoon to be a host, in the afternoon and evening to be a student so that you can finish your lectures on time. Thank you God, thank you beloved family, thank you friends, thank you lecturers for all your academic guidance and morals." wrote Randy Martin.
The congratulations given by Ria Ricis also attracted attention. Moreover, Ria Ricis and Randy Martin were reported to have a close relationship.
This issue arose before Oki Setiana Dewi's sister officially married Teuku Ryan.
(Zalsabila Natasya/agn)
Also watch the following video: