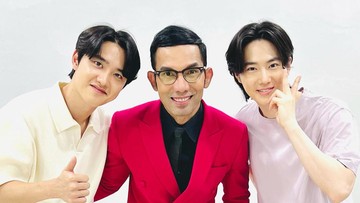 Newsdelivers.com –
This year more and more artists from Korea are visiting Indonesia, Mother. Their arrival was for various purposes, from concerts to fan meetings.
For this event, Indra Herlambang is the presenter most often appointed to guide the event. In fact, not a few fans of actresses and idols from Ginseng Country in the country have trusted Indra, you know.
Indra Herlambang is increasingly being mentioned as a special MC for artists from Korea in Indonesia. Not without reason, this is because this 47 year old man is considered by netizens to be the most positive presenter, who can mingle and knows the artists on stage well.
ADVERTISEMENT
SCROLL TO RESUME CONTENT
"The MC fanmeet Korea is the best, just wait for the mc'in other actors who are coming again," said the account @putri ****.
"I prefer Sis Indra to be an MC for Korean artists. The problem is that sometimes the others fight over who to play, especially if there are 2 MCs. If your older brother is patient, give in too. Keep your spirits up sis," said @suci****.
"Thank you for being such a great MC," kata fanbase aktor Kim Seon Ho.
"The MC is cool, Lee Jongsuk's foreign fans are even surprised why Jongsuk can be so excited and so expressive. They say the MC is good and can make Jongsuk really comfortable. That's really cool… please let a Korean artist come to Indonesia. The MC is just Indra Herlambang," said @time***.
The story of Indra Herlambang's experience as a Korean artist MC
Apart from receiving praise from netizens through the comments column, Indra Herlambang also often shares stories after meeting Korean artists. In his Instagram feed, Indra enthusiastically described the experience that many fans dream of.
Are you curious about the stories shared by Indra? Check out Bubun's summary from his personal Instagram account as follows.
1. Kim Young Dae
First there is the young actor Kim Youg Dae, Bunda. Indra Herlambang is believed to be the host of the artist's first fan meeting in Indonesia. This event took place on Saturday (13/5) after being delayed since 2022.
Indra admitted that previously, he could not stop watching the drama starring Young Dae, namely The Penthouse. So when they met in person, Indra suspected that the actor's character would not be much different from the drama.
"I couldn't stop watching The Penthouse. I lost sleep so much that I was curious to follow every episode. So when I said I was going to meet Young Dae, I already imagined that the character would be similar to Seok Hoon; cool, indifferent, and tends to be mean," he said.
However, this prejudice was wrong. Indra was actually amazed because Young Dae's original figure was much warmer.
"In fact, it's your fault, brothers. In real life, he's really sweet and warm. His fan service is always adorable and not cruel at all. Proof that his acting is really cool, right?" he explained.
2. Kim Min Gue
Next there is actor Kim Min Gue, Mother. This man with dimples and a sweet smile also went to Indonesia to hold a fan meeting. The event entitled Smile With Kim Mingue will take place at The Kasablanka Hall Newsdelivers.com on June 17 2023.
After meeting and hosting the event, Indra also made a new upload with the actor while telling about the experience he had just gone through. He said, the star of the drama Business Proposal has a humble nature.
"What I like most about Kim Min-gue: He doesn't realize that he's that handsome. So he's not at all rude or cool," said Indra.
"Plus, I'm always willing to be asked to do anything to provide the best fan service. I swear. There are so many hilarious moments that make us fans scream," he continued.
Check out the other stories on the following page, Mother.
For mothers who want to share about parenting and get lots of giveaways, come join the HaiBunda Squad community. Register click HERE. Free!