Suara.com – The competition between artists to achieve the highest turnover on Shopee Live doesn't seem to be over yet! This time it was Baim Wong's turn to achieve a turnover of up to IDR 600 million in just 2 hours. The success of Paula Verhoeven's husband selling on his shop account @Baim.Wong on August 31 2023 is proof that live streaming on Shopee Live is still a hot market.
Baim Wong's achievements have also become a topic of conversation among netizens on Instagram. In his recent post on Instagram, Baim Wong clearly showed his shocked face. As for the caption, he wrote: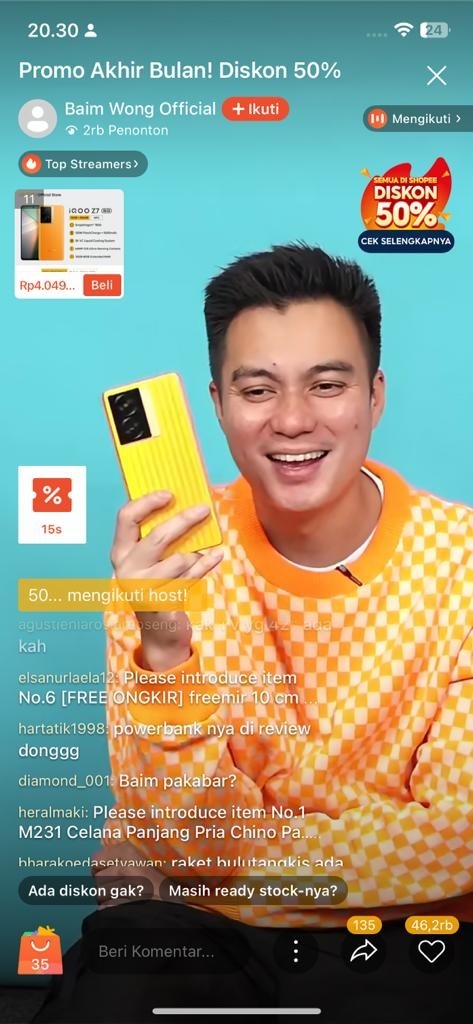 Baim Wong Shopee Live Capture Session. (Doc: Suara.com)
"CRAZY! THANK YOU BOSQUEE!!
You guys are really, really cool!
Also Read: Don't Miss Out! Ariel Noah makes his first appearance on Shopee Live with Geoff Max
TOTAL TURNOVER OF ALMOST 600 MILLION IN 2 HOURS
At my premier SHopee Live session! Alhamdulillah… Thank you guys!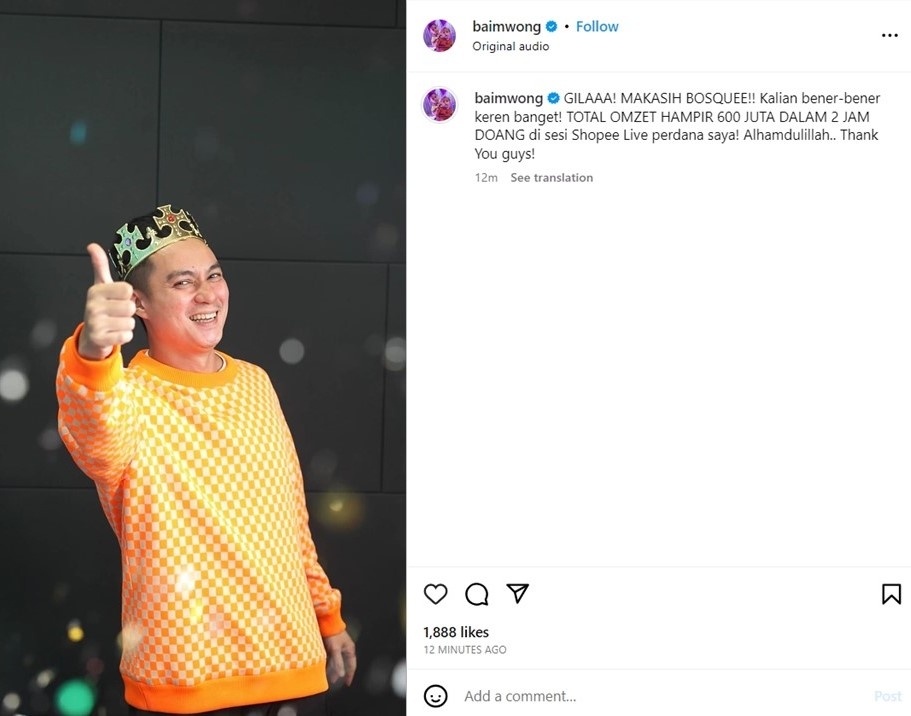 Capture Baim Wong's IG. (Doc: Suara.com)
Recorded how exciting the Live Shopping session on Shopee Live was at the @Baim.wong shop yesterday. As an artist as well as an entrepreneur and content creator, there is no need to doubt his cool style and ability to attract the audience to enliven and buy the products they are looking for in Shopee Live sessions. There was even a time in the first few minutes when the products in the display case were increased at super cheap promotional prices, causing some potential buyers to immediately scramble and making the live session even more tense. Moreover, in the middle of live, Baim uttered the phrase "come on bosque, quickly catch the discount!", creating real-time interaction with the audience, thus encouraging them to buy the product right then and there.
With Baim's hilarious actions and several sentences calling out the names of viewers who frequently comment, the live shopping session felt warmer and more interesting. In detail, the @Baim.wong shop sells several products ranging from a complete and varied selection, such as electronics, both gadgets and home electronics, to men's fashion. Plus a big promotion at the end of the month which is definitely the product with the lowest price. As part of the excitement of the 9.9 Super Shopping Day campaign which is currently underway, Shopee users and Baim followers are also scrambling to be able to enjoy shopping promos which start at 8 pm, namely, on Shopee Live, all 50% discounts, and free shipping Rp. 0 during the session. live is taking place.
The achievements obtained by Baim in his first live session yesterday, seem to be Baim's strategy in the future to focus more on working on his business in the Shopee Live realm. Through high traffic, and the enthusiasm of loyal Shopee users, it has also been encouraged by the news about the turnover achievements of fellow artists who have succeeded in achieving fantastic total sales, which has also become Baim's motivation to further develop himself on Shopee Live.
Also Read: Live Streaming Link for Sheffield vs Manchester City in the Premier League Tonight, Play Immediately
The enthusiasm of Shopee users and Baim followers in yesterday's Shopee Live session increasingly shows how Shopee Live has now become a target for people to shop for the products they need. Through research from Populix entitled "Understanding Live Streaming Shopping Ecosystem in Indonesia" it was revealed that Shopee Live is the live streaming platform most often used for online shopping, far surpassing its closest competitors. Where, 69% of respondents chose Shopee Live as the live streaming feature most frequently used by Indonesian people, above its competitors such as new player TikTok Live which is far behind with a figure of 25%. Shopee Live is also the live streaming feature that is most remembered by the Indonesian people with 60% of respondents, while TikTok Live as a new player only got 30% of the votes.
In line with data on live streaming platform usage, Shopee shows the highest market share in the number and value of transactions. Where in the market share indicator for the number of transactions (share of orders), Shopee managed to record the highest market share for the number of transactions (56%) in the last 6 months, far surpassing TikTok Live at 30%. Meanwhile, in terms of market share of transaction value (share of revenue), Shopee is in first place in recording the largest transaction value market, namely 54%, which is very far ahead of its competitor, TikTok Live (31%). From the research data above, it can be concluded that Shopee is still leading the competitive map of the e-commerce industry, both in the big picture and when focused on the live streaming shopping feature.