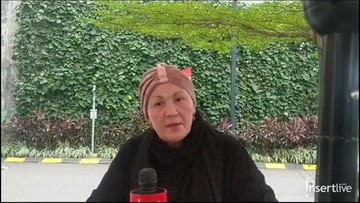 Newsdelivers.com, Insertlive –
The feud between Aldila Jelita and her mother, Marjam Abdurahman, seems to be getting heated. Marjam couldn't hold back her disappointment and anger towards the princess who chose to reconcile with Indra Bekti.
Marjam also uttered an oath to Aldila Jelita. Marjam admitted that Aldila Jelita had blocked communication with him. In fact, Marjam said that Aldila Jelita was no longer her child.
"My child (Aldila) is gone, he has blocked me. I already said I don't have his child. So he said I'm sorry, not at all," said Marjam, Aldila Jelita's mother when met on Trans TV.
ADVERTISEMENT
SCROLL TO RESUME CONTENT
Apart from that, Marjam also felt that all the items she had given to Aldila Jelita had been thrown away by her daughter. The reason is that Marjam thinks that Aldila Jelita doesn't like cheap things.
"I think everything from me will definitely be thrown away. Dila has a bad attitude when gifts from me are thrown away because she knows the quality is cheap," said Marjam.
"Like 'what's this for, it's cheap', he threw it away. If asked, 'I didn't see it, I forgot,' he continued.
Marjam also said that Aldila Jelita was a disobedient child. In fact, he said that Aldila Jelita had never been happy in a married relationship with Indra Bekti.
"What does this mean is that Dila is disobedient, the man (Indra Bekti) is doing something wrong. So is this for show? What is he doing? I know her suffering, Dila was not happy during her marriage, right, so if Dila was happy there would be no soap operas (problems to the point of getting divorced ) in it," said Marjam.
As is known, Marjam did not agree with Aldila Jelita's decision to reconcile with Indra Bekti. The reason is, Marjam admitted that he could no longer accept Indra Bekti as his son-in-law.
Marjam accused Indra Bekti of making a fatal mistake which could no longer be forgiven.
(kpr/kpr)
Also watch the following video: